In the latest trial to be concluded on the July 15, 2016 coup attempt that left 250 innocent people dead, a court in the capital Ankara handed down aggravated life sentences yesterday to 31 defendants.
The defendants were arrested after the coup attempt by military infiltrators of the Gülenist Terror Group (FETÖ), which was thwarted in the early hours of July 16, 2016. All were staff of the Gendarme Schools Command located in the capital. The command is in charge of running schools around Turkey that train gendarme officers. Brig. Gen. Sadık Köroğlu was the highest-ranking officer among 31 sentenced.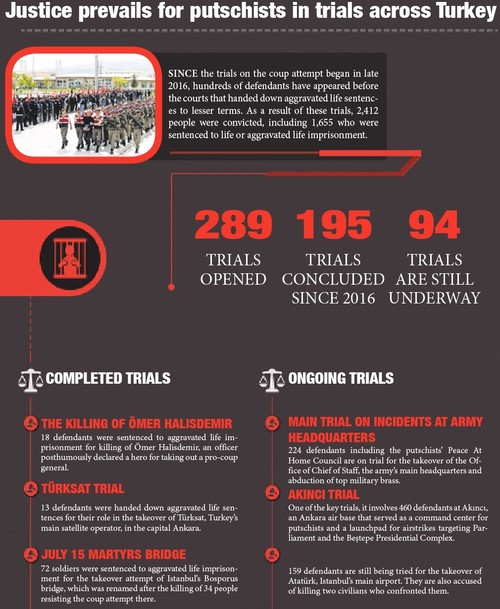 A total of 316 defendants have been on trial since last year at Ankara's 20th High Criminal Court. A separate trial will be held for five fugitive defendants and 280 suspects who have been released pending trial.In the trial taking place in a courtroom located in a sprawling prison and courthouse complex in Sincan district of the capital, defendants denied their involvement in their last words before the verdict was announced.
Along with aggravated life sentences, the court also ordered a prison term of 26 years and eight months for Lt. Col Fazıl Ergün for a homicide attempt and another 13 years and six months in prison for 1st Lt. Özkan Darendeli "for restricting one's freedom." Ergün, who confessed his ties to FETÖ but later retracted his testimony, was one of two officers who opened fire on anti-coup FETÖ officers confronting them at the Gendarme Schools Command headquarters. Two eyewitnesses, both gendarme officers, told the court in earlier hearings that Ergün fired on them as they tried to enter the headquarters.
Özkan Darendeli was accused of commanding troops who held Brig. Gen. Ferdi Korkmaz, the gendarme commander for Ankara, hostage. Korkmaz and seven other officers were imprisoned in a room inside the Gendarme Schools Command headquarters for hours, but later managed to overpower hostage-takers.Suspects employed cadets to aid the coup attempt according to the indictment and ordered them to fire at anyone trying to enter the base. Not all defendants were staff at the Gendarme Schools Command and prosecutors say officers in civilian clothes arrived at the headquarters to assist the putschists for a complete takeover.
The indictment also says 8,000 rifle bullets were sent to the headquarters for putschists upon the orders of a colonel who was tasked with protecting the Beştepe Presidential Complex.
Sadık Köroğlu, who claimed he was not aware of a coup attempt, was accused of ordering another suspect to arrest a general as well as dispatching three teams of soldiers to Türksat, the country's main satellite operator, to help putschists take over. Prosecutors said in their indictment that Köroğlu would have been appointed the head of the gendarme's training command if the putschists succeeded.