On a vast sand pitch in Küçükçekmece, a busy suburb on Istanbul's European side, horses galloped around with their riders donned in traditional garb greeted the audience, from President Recep Tayyip Erdoğan's son Bilal Erdoğan to the city's governor. It was for the opening of the Ethnosports Culture Festival, an event organized by the World Ethnosports Confederation, which is chaired by young Erdoğan.
The festival, attended by teams from Turkey, Turkic countries and other countries where centuries-old national sports prevail, aims to promote these traditional sports that are known for predating football, golf or any other modern-day sports.
Running from Aug. 26 to Aug. 28, the festival will host 20 teams from around the world that will compete in 11 different sports, from kökbörü from Kyrgyzstan, which involves horseback riders competing to grab a goat or a goat hide on the ground, to oil wrestling from Turkey, where half-naked wrestlers drenched in oil try to take each other out by putting their rivals' back on the ground. Horseback archery and archery with types of bows used by Ottomans are among the other highlights of the festival where other Turkic, Ottoman and ethnic traditions will be revived such as mangala, a board game competition, and ceremonies to reenact weddings and celebrations of childbirth in ancient times.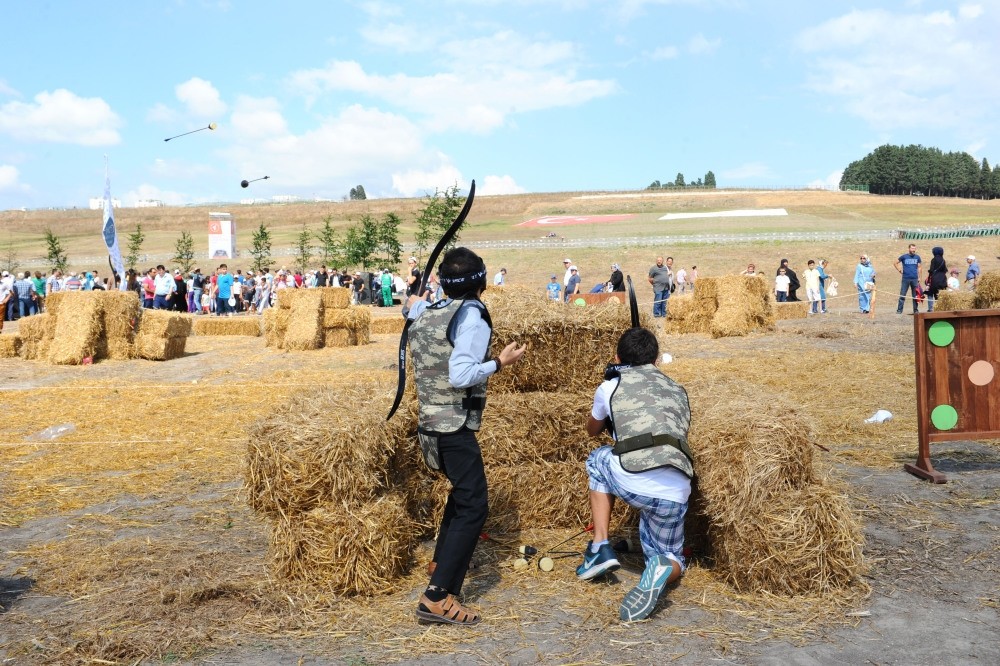 The festival also offers archery practice for children.
Speaking at the opening ceremony, Bilal Erdoğan said the festival's main purpose is to reintroduce traditions almost forgotten to new generations. "In Turkey, we had forgot our history, our cultural values for decades."
"Dominant powers in Turkey sought to force the public to forget the traditions of their ancestors. Now, we have to embrace them again and should revive them if we want to leave our mark in the future," he said.
"Traditional sports are not as valued as they were in the past for a long time. We had to attract people's attention to these sports," he added.
Erdoğan said Turkey was under attack by "certain powers" before and after the July 15 coup attempt, and it has to stay strong and united. "I hope this event will bolster our unity with our friends."
Erdoğan said the Ethnosports Confederation aims to revive not only the Turkish nation's forgotten sports but also the traditional sports of other countries.
He highlighted that along with traditional sports, the festival will revive ancient music, handicrafts, dances, et cetera.
A total of 35 traditional Turkish large nomad tents and a marketplace have been set up in a huge complex for the festival. The festival area features many different venues and will host numerous events during the games. Food stalls will offer traditional Central Asian and Anatolian meals and refreshments, and workshops for traditional weaving, pottery and ornaments will be held for both children and adults to pass these ancient traditions down to the next generations. The artworks created in these workshops will be shown at various exhibitions as well.
Apart from numerous live performances by musicians and an Ottoman Military Band, Kyrgyz folk poet Aslanbek Sultanbekov, the composer of the popular song "Dombıra," and his band will take the stage and perform the best examples of Central Asian music.