Rescue crews huddled around a small hole in Istanbul's Beykoz district, desperately trying to save a Kangal puppy, a guard dog, that fell into a 30-centimeter wide and 70-meter deep well eight days ago.
After a week, efforts are still ongoing to bring the stuck canine back to the surface, while food and water are lowered to the bottom of the well by a rope to keep the dog alive as rescue teams continue to seek ways to retrieve the dog.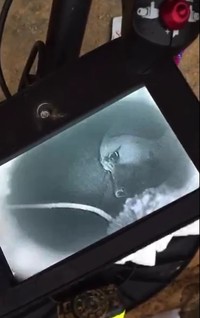 Local municipality crews and animal rights volunteers had been trying to retrieve the dog with limited tools for a week.
Units from the Prime Ministry Disaster and Emergency Management Authority (AFAD) arrived at the scene on Sunday and erected a tent over the well to ease the efforts to retrieve the dog amid freezing weather and snowfall. Some 15 people are taking part in the puppy's rescue operation.
The dog is also being monitored by a camera lowered to the bottom of the well, and rescue teams are trying to get hold of the animal with a rope and a net.