The Interior Ministry revealed on Sunday at the ruling Justice and Development Party's (AK Party) 24th Advisory and Assessment retreat in Afyonkarahisar that almost a quarter of the local Kurds living in four districts in three southeastern provinces where PKK terrorists continue to clash with security forces have abandoned their homes. According to a report from Al Jazeera Türk, virtually half of the people in four conflict-ridden districts – Cizre and Silopi in Şırnak, Sur in Diyarbakır and Nusaybin in Mardin – which have a total population of 439,000, have been badly influenced by the clashes. The figures presented by Interior Minister Efkan Ala indicated that around 93,000 people from the four districts have left the region, about 22 percent of the total population.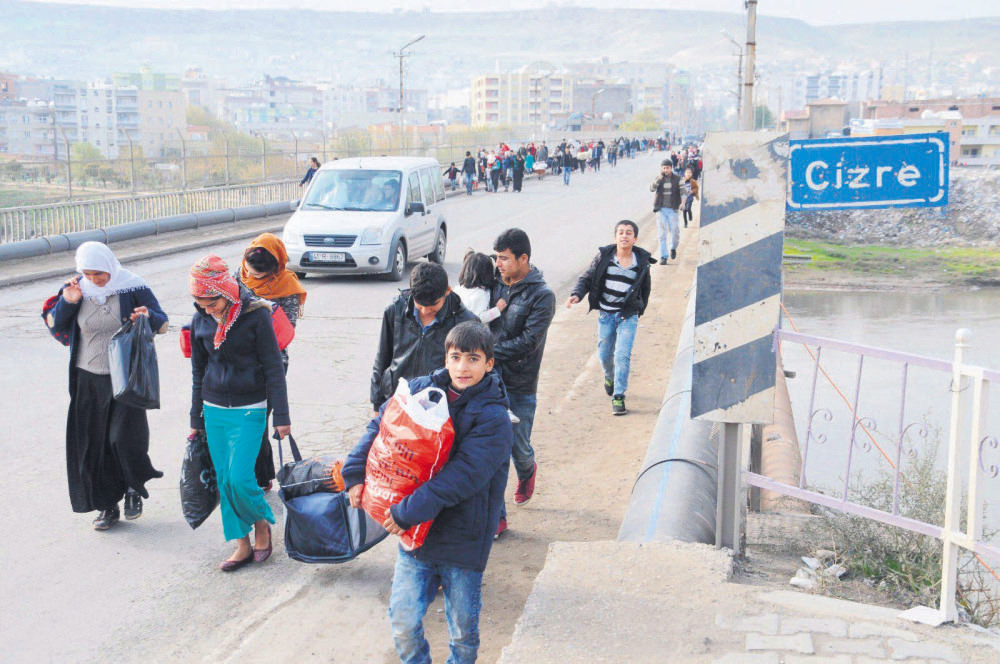 About 25,000 people have left Cizre, which has a population of around 113,000, since the beginning of the operations that started to wipe out the PKK presence in response to its calls for autonomy. In Silopi, 30,000 people, almost one-third of the 88,000 population, have left their homes.
Thousands of teachers are also among those who have left the districts. The teachers received text messages in December ordering them to attend seminars in their respective hometowns designed to address the threat imposed by PKK terrorists.
The PKK is also a menace to medical workers in Cizre. During an operation in the district last week, security officers discovered that a home under PKK control was turned into a makeshift hospital using materials seized from ambulances after using false requests for medical help to draw in an ambulance.
Some 18,000 people out of a population of around 122,000 have left Sur as a result of a halt to daily life due to PKK clashes with security forces in urban areas. So far the PKK has targeted public places, including schools, Quran education facilities and other locations with by children. On Dec. 8, two schools in the district caught fire after being hit with hand-made explosives. A bullet fired by a PKK militant ricocheted, striking a 51-year-old primary school teacher, M.K., and killed her on Wednesday, Jan. 6.
The Interior Ministry said 20,000 people out of the 116,000 in Nusaybin have also left. In November, it was reported that houses belonging to families who are known to oppose the PKK were marked, in a sense, to single them out and pressure them to leave. Reports claim that the PKK benefits from abandoned houses, settling into them and using them in clashes.
According to figures, 10,300 tradesmen in the four districts have had to shut down their businesses.
The Interior Ministry also said that there are 14,068 members of the security forces participating in the operations, including 6,182 soldiers and 7,889 police. Security officers have lost 24 men in clashes, whereas 173 terrorists in Cizre, 27 in Silopi, 67 in Sur, 32 in Dargeçit in Mardin and three in Nusaybin have been killed and 187 have also been detained.
PKK terror paralyzes social and economic life in the southeast through vandalizing the buildings, killing civilians and threatening the security of dozens of people. Causing hundreds of thousands of people to leave their homes in conflict-ridden areas by force, life has become unbearable for those who have enough tolerance to stay.
Although claiming that they act in the interest of Kurds in the region, the PKK clashing with security forces paves the way to it losing popularity among locals who want the peaceful atmosphere they had during the reconciliation process to return.
Disregarding whether the targets belong to the rich historical heritage of the region, terrorists continue to practice life-crippling strategies by digging ditches and barricading roads in efforts for autonomy.
Analysts say the PKK is at the brink of understanding that the clashes led them to a deadlock, and so they are starting to panic while also realizing the limited support they received is further declining. Heavy civilian casualties are a result of a shift in the PKK's strategy, which is to engage security forces in urban areas and cities. Digging ditches, erecting barricades, killing security personnel while shopping or asleep are some of the activities of the newly adopted strategy after the PKK ended the cease-fire on July 11, 2015.