Security forces have captured large quantities of ammunition and food after an operation conducted in the conflict-ridden Sur district of Diyarbakır province, as part of a counterterror operation that began in December.
Following the announcement of curfews in five neighborhoods in the district, forces started to sweep the area seeking PKK terrorists and raided three houses on Friday, seizing many Kalashnikov rifles, dozens of grenades, large stores of bullets and bombing equipment, according to a statement issued by Diyarbakır Police Headquarters on Sunday.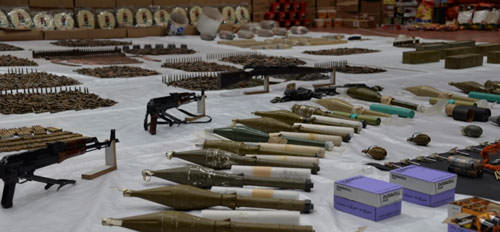 The statement said that amongst the items seized including ammunition, terrorists had accumulated food stocks sufficient for a year, including thousands of cans of food and sacks of dry legumes. Moreover the terrorists had stockpiled clothing, including women's clothing for use as disguise.
Also captured by security forces were armor-piercing weapons, coffee machines whose components were used in bomb-making and guitar cases for carrying weapons.
Security forces added that since Jan. 27, terrorists have established barricades with traps in the curfew-imposed area, and after forcing locals from their homes, the terrorists dug tunnels between houses or smashed holes in the walls to ease their escapes during clashes.
The Turkish General Staff announced that two police officers succumbed to their wounds after clashes with terrorists, causing three more soldiers to be injured on Monday, Feb. 1. Later in the day, the death toll rose to five.
The region continues to see locals fleeing their district, since the PKK has turned their neighborhoods into warzones, by digging ditches and setting up barricades. Many locals are furious at the PKK for crippling daily life in the region and taking the war to the streets. Many families have fled the district, able to take only a small portion of their belongings.
Speaking to a Turkish TV channel while fleeing the region, a local said, "We are in a miserable situation. We have nowhere to go. We bear the burden. They told us to evacuate after ditches were dug. Enough. We want this war to end."
Hundreds of thousands of people in the region have fled their homes since the PKK launched a bloody campaign in urban areas. Public order has become nonexistent and security forces continue to intervene.
Meanwhile in the district, security forces continue to remove barricades, filling the ditches using construction equipment and destroying the explosives planted in them. Despite some clashes, most of the neighborhoods in the district have seen terrorists purged.
According to a statement issued by the General Staff yesterday, two terrorists were killed in the operations on Jan. 31, which means 145 terrorists have been killed in total since December 2015.
Furthermore, in a response to allegations made this week by Peoples' Democratic Party (HDP) deputy Faysal Sarıyıldız that 30 wounded people were trapped in the basement of a building and could not receive an ambulance in the Cizre district of Şırnak province, the Şırnak governorate on Saturday released a written statement and denied the claims.
Underscoring that health services are being performed "meticulously and nonstop," the statement said 10 ambulances along with two other vehicles were sent to the address, but that no one showed up even after several hours of waiting. "All kinds of work has been carried out, yet no positive answer could be received from the alleged wounded," the statement further said.
The statement also stressed the conditions under which health personnel carry out their duties saying, "Even though booby-trapped barricades and ditches of the separatist terrorist organization and armed attacks against our ambulances and health personnel cause difficulties in health services, our health personnel perform their duty with great effort."
The PKK terrorist organization previously launched several offensives against health personnel and ambulances. The terrorists also attempted to entrap health personnel by faking ambulance calls. An ambulance driver was killed by the terrorist group in late September in Şırnak, after he was kidnapped on his way to collect wounded security personnel.