A delegation, which included President Barack Obama's Special Presidential Envoy for the Global Coalition to Counter DAESH Brett McGurk (left), met in Syria on Sunday with the leaders of the Syrian Democratic Forces (SDF), which is dominated by the People's Protection Units (YPG), the armed wing of terrorist PKK-linked Democratic Union Party (PYD). It was the first time a U.S. official crossed into Syria since the country's envoy was recalled.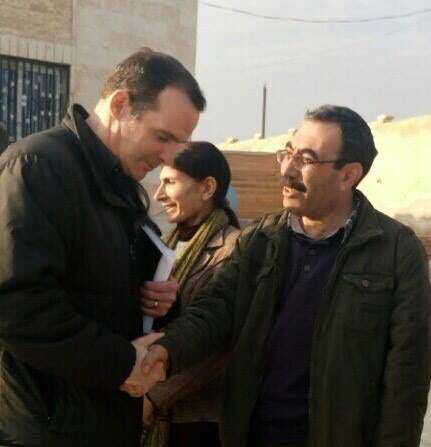 Accompanied by French and British officials, as sources told Agence France-Presse (AFP), the weekend visit to the war-torn country, confirmed by a U.S. official, is thought to be the first meeting between a senior U.S. government figure and SDF representatives within Syrian territory.
The visit was held in PYD-held Kobani one day after the PYD was excluded from the Geneva talks, when opposition groups became concerned, especially Turkey which perceives the PKK as a threat to its national security.
A PYD official says senior members of their party, including Co-Chair Salih Muslim, left Geneva after not being invited to take part in indirect negotiations on Saturday.
Turkish Foreign Minister Mevlüt Çavuşoğlu said late on Tuesday that Turkey was promised that the PYD would not attend the Syria talks in Geneva, and that the Turkish government would definitely consider boycotting the meeting in Geneva if this pledge was not kept.
The SDF alliance – dominated by YPG militants, as well as Syriac Christians and a few thousand people from lesser-known Arab groups, such as the Arab Euphrates Volcano and the Revolutionary Army – is interpreted by many analysts as an attempt to legitimize Washington's weapons transfer to the region, to ease Ankara's concerns of PKK affiliates getting weapons from Turkey's allies.