The average global temperature in 2015 is set to be the hottest on record, the UN's weather agency said on Wednesday.
A week ahead of the UN Climate Change Conference in Paris, the World Meteorological Organization (WMO) issued its provisional statement on the status of the climate in 2015.
"2015 is likely to be the hottest year on record, with ocean surface temperatures at the highest level since measurements began. It is probable that the 1°C Celsius threshold will be crossed. This is all bad news for the planet," said WMO Secretary-General Michel Jarraud said in a press conference in Geneva.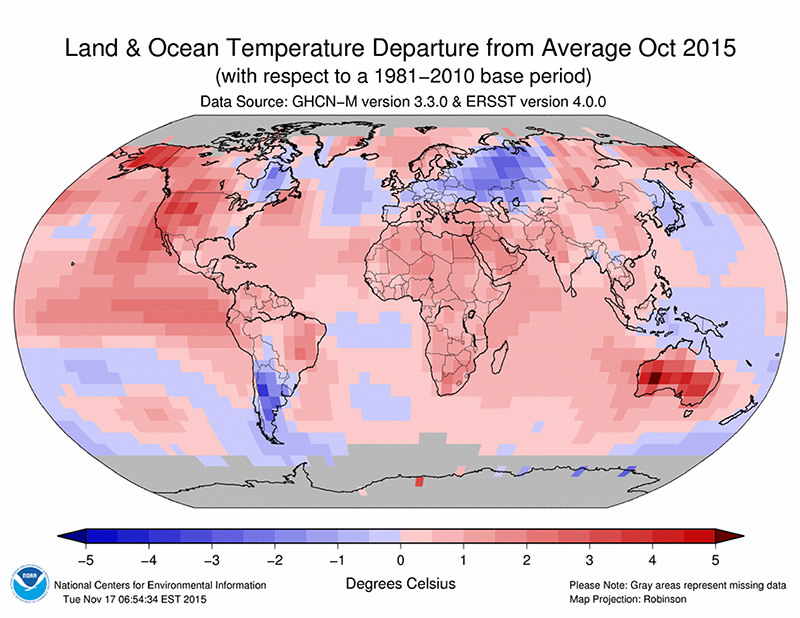 *This graphic provided by National Oceanic and Atmospheric Administration (NOAA) shows land and ocean temperatures for October 2015. Even for a record breaking hot year for Earth, October stood out as absurdly warm. (NOAA via AP)
Due to a combination of a strong El Nino and human-induced global warming, the global temperature is set to reach the symbolic and significant milestone of 1° Celsius above the pre-industrial era, WMO warned in a five-year analysis report.
According to the WMO, the years 2011-2015 have been the hottest five-year period on record, with many extreme weather events - especially heatwaves - influenced by climate change.
"Greenhouse gas emissions, which are causing climate change, can be controlled. We have the knowledge and the tools to act. We have a choice. Future generations will not," Jarraud said.
Jarraud said the overall warming impact of El Nino is expected to continue into 2016.