The Clap, one of Istanbul's most prominent English improv groups, begins a new round of shows at Arsen Lupen in Taksim at 10:30 p.m. tonight free of charge, where they will play hilarious improv games, many of which have been showcased on the hit TV show "Whose Line Is It Anyway" - a style otherwise known as "short form" improv. The Clap is set to become a regular feature at Arsen Lupen on Thursday nights.
Established back in 2013, The Clap has and continues to perform regularly on Friday nights at YOTA Sahnesi in Taksim, along with improv double acts Ephemerata and Leeds Lads. The two groups have traditionally performed "long form" improv, a more drawn out version of improv where the two groups create a unique world full of colorful characters based on a suggestion from the audience, all created on the spot.
The Clap's recent foray into short form started a month ago at Spoken Word Istanbul, an open mic event on Tuesday evenings at Arsen Lupen that provides a platform for anyone looking to share their talents, whether it be music, poetry, storytelling, comedy or simply reading their diary. Due to the more limited stage time during an open mic night, The Clap decided to go in a new direction, performing short form Whose-Line-Is-It-Anyway-style comedy. The group was an instant hit and was soon approached by Arsen Lupen to perform regularly at the night spot.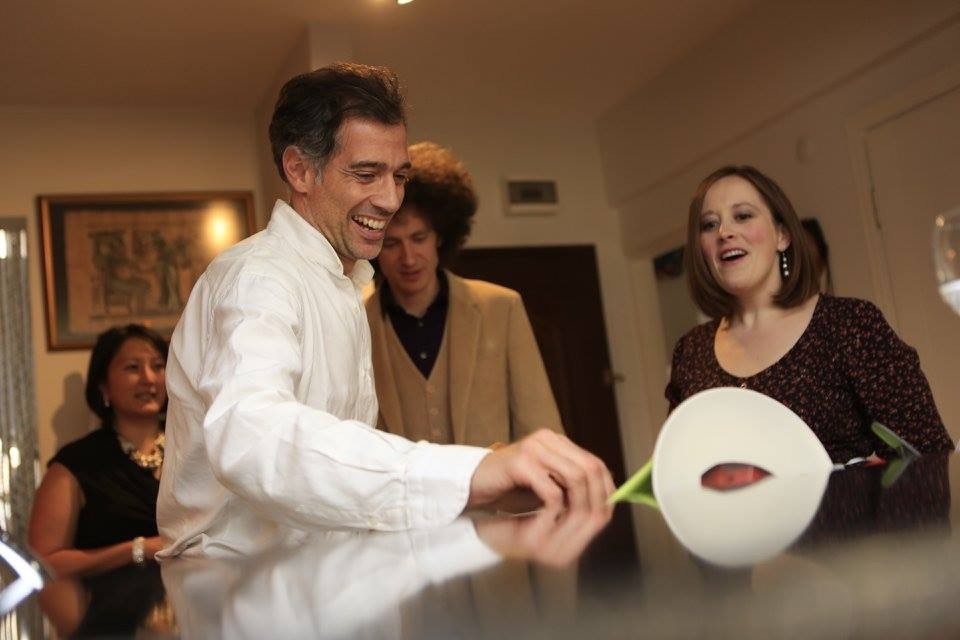 "Short form is something we had never really thought about doing as a group," Kenny Laurie, a member of The Clap, said. "We usually have around 30-40 minutes to perform our long form sets on Friday nights, and the 10-15-minute slots we were giving at Spoken Word demanded we change form. It was a switch we were happy to make for a number of reasons. Firstly, performing different styles and performing more regularly is obviously a healthy thing for the group to do. And secondly, we wanted to make an immediate impact and short form is much easier for an audience to understand and get on board with early on. Improv is still a niche genre and generally most people aren't particularly familiar with improv and what it involves - even after three years of shows, we're regularly asked 'is this all made up on the spot?'"
The short form games likely to be performed - the set list of games is still unconfirmed, it being improv and all - include favorites such as Film Critic - where two critics discuss a fictional film while two actors play out scenes from it - Good Advice, Bad Advice, Worst Advice - three agony aunts provide advice based on audience questions - Party Quirks -a host has to guess the odd traits possessed by his or her guests - and Greatest Hits - two actors selling a compilation CD with songs about mundane topics that are then sung by one of the performers.
Chris Wall, who started performing with The Clap earlier this year, has already become a crowd favorite on Tuesday and Friday nights, playing characters that have ranged from a warrior mongoose to a mint-strawberry-loving communist.
"The response we have received has been very encouraging and the growing interest in our show really inspires us to do our best and ensure that we deliver a performance that everyone can really enjoy," Wall said. "We like to mix up the games we play on Tuesdays and Thursdays, keep things fresh and to help us stay on our game. Luckily, the audience has come up with so many bizarre suggestions during the games that we've had little trouble in being kept on our toes."
Many have already been inspired by The Clap's Tuesday and Friday performances, joining their free Monday night practice sessions. The emphasis on practice, obviously improv can't be rehearsed but there are skills to be learned. "We always encourage people to come join us in practices on Monday," Laurie said. "Every one of us performing today started out as shy novices making every elementary error in the book."
Details about the show and forthcoming shows can be found on the "English Improv in Istanbul" Facebook page as well as "The Clap" Facebook page. Anyone interested in getting in touch with The Clap and the wider improv community in Istanbul can go to improvinistanbul.com.