A Syrian-born artist is standing three buses on their ends on a square in the eastern German city of Dresden to evoke the suffering of civilians in the Syrian city of Aleppo.
Manaf Halbouni's art installation, titled "Monument," mirrors a barrier made of buses that was placed on a street in Aleppo to protect residents from sniper fire.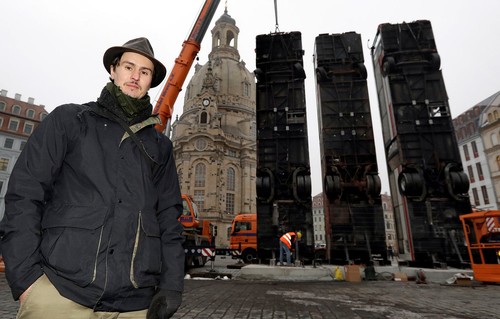 The artist's work was being set up Monday in front of Dresden's Frauenkirche church and has received support from the city and local businesses, but far-right groups have criticized it.
Halbouni told The Associated Press that he was overwhelmed by the efforts people had to make to continue living in Aleppo, which saw years of fierce fighting between government troops and rebel forces.
At the same time, the Frauenkirche has become a symbol of Dresden's rebirth following its destruction in World War II.
"I wanted to show people that reconstruction is possible," said Halbouni, 32.
The installation, which will be fixed to a heavy platform to prevent the buses accidentally falling, has been criticized by far-right extremists who are angry that it will remain in place next Monday, the day on which Dresden commemorates some 25,000 people who died as a result of Allied aerial bombardment on the night of Feb. 13 to 14, 1945.
Far-right groups have repeatedly tried to use the memorial event to promote a revisionist view of history that portrays Germans as the victims in World War II.
Police said Saturday that they were investigating online threats made by far-right extremists against Dresden's mayor, Dirk Hilbert.
German media reported that the threats were posted on social media by supporters of the nationalist Alternative for Germany party and activists from the group Patriotic Europeans against the Islamization of the West, which has staged weekly anti-migrant protests in Dresden for the past two years.