Fatma Demirel, 80, is a mother of seven who lives in a single-room house in eastern Iğdır province. It is here where she began knitting socks, sweaters, gloves and "kufis," a type of fez worn by local women under their headscarves, to earn a living following the death of her husband.
The job Demirel took out of necessity has turned into a profession that she has been practicing for more than half a century now.
Demirel, who produces souvenirs apart from all the knitting work, gives life to the motifs unique to the eastern Anatolia region of Turkey. Collecting wool for her thread on the nearby mountain and knitting numerous items, Demirel has managed to keep a century-old tradition alive while providing for her family.
Demirel began knitting to provide for her family back in the 1960s.
"I have knitted hundreds of pieces using different motifs and colors and I have sent them all over Turkey so far," she said.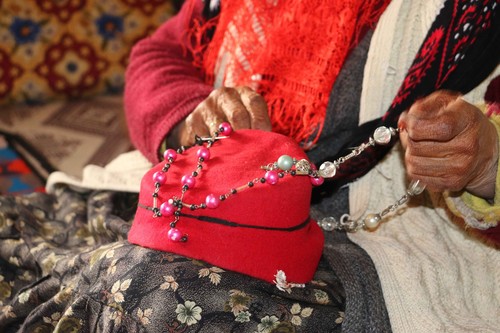 Demirel explained that although interest in most of her knit work has declined over the years, the "kufi," which is used in folk dance performances as well as by the local women, was still a popular accessory.
"I have earned a living by knitting all my life. I brought up and provided for my children by weaving rugs and knitting socks, sweaters and gloves. I am old now; it is hard to knit. I provide for myself with my work as well with the pension that I receive from the state for my old age," she said.
"I used to knit much more," Demirel said, adding that her work is appreciated by others as well. "I am old, the demand is low but there are still people who want genuine knit works. I try to make as many as possible and sell them."
Fatma Demirel's grandson, İdris Demirel, assured that his grandmother has the talent to knit any and every kind of attire and souvenir with the wool she produces herself. Her grandson claimed that the knit work his grandmother crafts is in demand across Turkey.
"My grandma has earned a living by knitting almost her entire life. People here know the quality of my grandmother's knitting and she still has customers who order new pieces. Although we try to help her in her tiny little house, she prefers to live alone and provides for herself with her pieces. She likes to take care of herself," he said.