A seven-year-old girl from Hereford, England penned a letter to Google asking for a job --and to her delight, she received a personal response from CEO Sundar Pichai himself.
Chloe Bridgewater sent her handwritten letter to the tech company a few weeks back, expressing her interest to work at Google's offices where she could "sit on bean bags and go down slides".
Addressing the letter to the "Google boss", Ms. Bridgewater details all her credentials, including her spelling and computer skills, and even provides references.
"My teachers tell my mum and dad that I am very good in class and am good at my spelling, reading, and my sums," she writes.
Also showing her ambitious side; other than her dream of working at Google, Chloe says she wants to be a swimmer at the Olympics and work at a chocolate factory.
Although she admits that she does not really know what a job application is, she shows great strength by openly talking about a weakness of hers. Way to ace that tricky interview question, Chloe!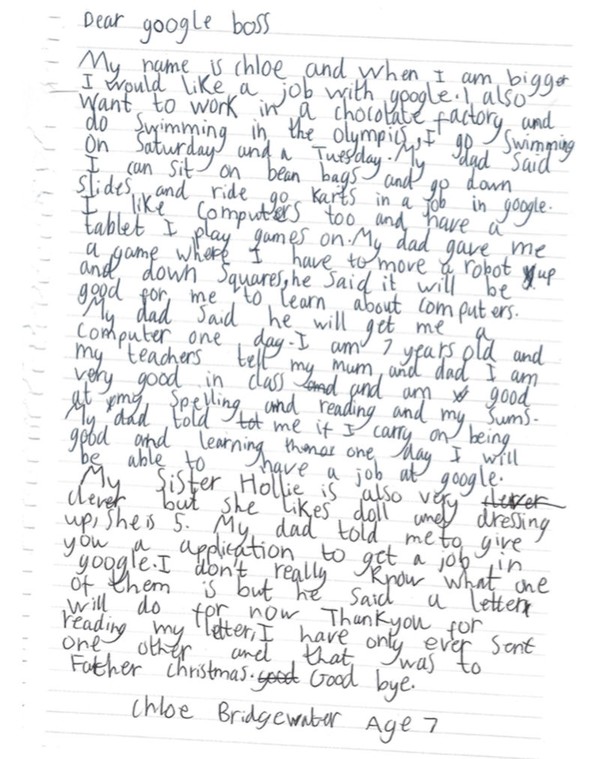 The best part? She managed to catch the attention of Pichai who wrote back a sweet, encouraging letter.
Chloe's father Andy shared the photo of Pichai's response on LinkedIn earlier this week which quickly went viral.
In his letter, Pichai tells Chloe to keep working hard and follow her dreams – from a job at Google to swimming at the Olympics.
my 7 yr old daughter wrote to the boss of Google asking for a job, she's so made up he replied! Thanks @sundarpichai pic.twitter.com/EMuANNHiVc

— Andy Bridgewater (@B21DGY) February 13, 2017
Google has confirmed that the letters between the young girl and the CEO are real.