Palestinian artist Shebab Kawasmi, who recreates Jerusalem streets from 100 years ago, said that his aim is to depict the old Jerusalem free of the Israeli state, saying: "Jerusalem in fact is not the city that our youth think it is. There were no Israelis in the original Jerusalem."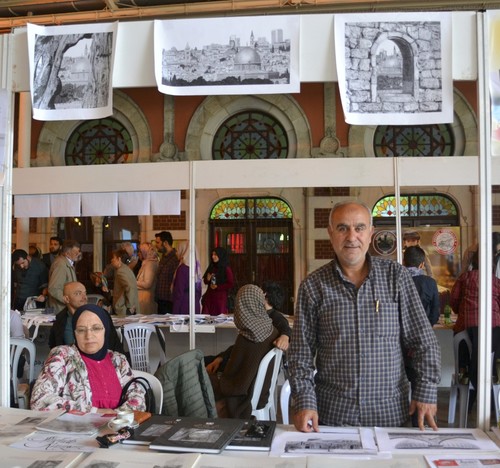 The 8th International Periodical Fair was organized by the Turkish Periodical Union (TÜRDEB) and the World Periodical Union. It was held at Sirkeci Train Station last week, with contributions from 100 periodicals from 23 countries, incorporating many major publications circulated in different genres including the arts, children's literature, humor, history, literature, economics and youth.
A guest at the fair, Kawasmi spoke to Anadolu Agency (AA) and said that he came from Jerusalem to participate in the fair with charcoal drawings. He stated that he drew the streets of Jerusalem, the historical and religious buildings of the city and the Masjid al-Aqsa in the hope of preserving his drawings for future generations.
Stressing that he has been drawing for 25 years, Kawasmi said, "I draw al-Aqsa and the streets of Jerusalem as they were 100 years ago. I want to show people the old Jerusalem. People used to live happily in Jerusalem in the past and everything was easier. People used to lead a more vivid life back then.The quality of life was higher in terms of both politics and economics. Conflicts and occupations later tore Jerusalem apart. As an artist, I witnessed how the historical buildings have faded away. Now, I draw these to preserve their images for future generations."
'I want to tell people about Jerusalem'
Stating that he has written a book about the history of Jerusalem that includes some drawings he created himself, Kawasmi said, "My book, "Once Upon a Time," was published after 30 years of research. For now, it is available in English and Arabic." Noting that this is the first time he is participating in the fair, Kawasmi said, "I have a personal gallery in Jerusalem and I work with artists outside of Palestine as well. I am also in charge of the graphic design for a periodical. I hope to participate in this fair every year and tell people about occupied Jerusalem and Palestine. I was born in Jerusalem and this fact is very important to me. I am trying to do what I can for Jerusalem. This is my sole dream and aim."
Pointing out that Palestinian artists mainly focus on Jerusalem in their works, Kawasmi added, "Several artists around the world who work in various fields maintain their art by focusing on Jerusalem. But no matter how basic, there are no bans on artists in Jerusalem, although there are some restrictions in some fields. Palestinian artists face difficulties regarding visa issues related to travel. Our artists do not have access to world-wide improvements and possibilities but every day, there is a new agenda in the arts. The arts focusing on Jerusalem have a unique subject. They tell the stories of people oppressed by the Israeli government."
'I love Erdoğan so much'
Underlying the issue that Palestinian artists must be taken seriously, Shebab Kawasmi said, "There are artists in Palestine who make their living solely with the arts. They participate in several fairs and conferences held across Europe and in countries like Tunisia and Algeria, but most of them remain passive just because of financial impossibility, no matter how successful they are."
Stressing that he loves the Turkish people and President Recep Tayyip Erdoğan, Kawasmi said, "I love Erdoğan so much. As an Arabic society, we care about Erdoğan and the Turkish people. They are so honorable and friendly. We have witnessed how Turkey made considerable progress in the fields of culture, the arts, the military and politics. We think that on July 15, the failed coup attempt arose from the West. Erdoğan is working on recovering Turkey across all areas - just like healing an infected patient in a hospital. Turkey is really making progress on its journey to becoming the pioneer state for the Islamic world and it is one of the only countries that can achieve that."