Mother's Day is around the corner! Spending special time with our mothers is what all of us dream of. There are lots of choices in Istanbul for this special day. My first recommendation is on the bank of the Bosporus. Shangri-La Bosphorus Hotel on the junction of the two continents promises an unforgettable Mother's Day with its unusual brunch, which features a "Surf 'n' Turf Brunch" menu in its restaurant IST TOO. The variety of seafood in the brunch is particularly impressive. While mothers celebrate this special day with the accompaniment of live Latin music, children can prepare gifts for their mothers, as there is a "Kid's Activities" program organized for them. In addition to seafood, the best items are available on the dessert menu. You can taste unique examples of French pastry and add a special touch to the day.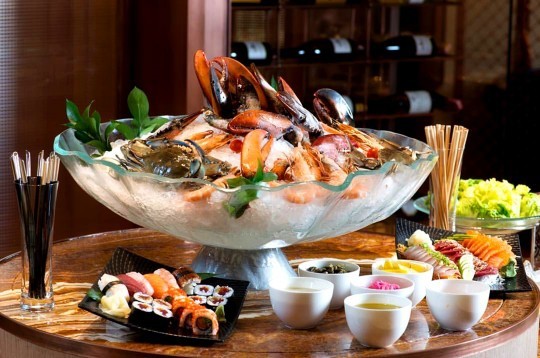 The CHI Spa in the hotel will have a special program as well. Its package "My Mother and Me" will relieve fatigue and stress of both mothers and their children. The package offered for mothers includes a Chi Balance massage and reflexology curing. Different alternatives are available so that mothers-daughter and mother-son pairs can have fun together. While mothers are busy being taken care of, children can also enjoy the pool, sauna and bath areas. I would recommend that you visit this extraordinary hotel in Beşiktaş for a relaxing Mother's Day with a far east theme.




Another brunch I would recommend takes advantage of nature. The venue, called "Izoletta," welcomes you as you follow the sign "Bahçeköy" in the direction of the Belgrad Forest. With its peaceful ambience, the restaurant inside Life Park there is worthy of all mothers. Its dome covered with glass, antique fireplace and Chester armchairs offer a cosy atmosphere. The dogs in its garden, wooden tables and fruit baskets make you feel like you are in a village. Owned by Erdem İpekçi, the venue has a rich breakfast menu. I advise you to try the Turkish coffee in particular. After breakfast you can take a walk with your mother and breathe fresh oxygen in the wooded area of Izoletta. If you fancy spending Mother's Day away from an urban environment, this place is just right for you. Do not forget to visit Ataturk Arboretum on the way back from the venue. Built on over 345 hectares of land, this park has over 1,500 plant species. This special park that numerous tree species can be found in can well be called a "museum of trees." It is also a good spot to take photos. You can stop over here on the way back from breakfast and take a nice stroll around the pond and immortalize the moment as you take photos with your mother. On the way back, you can see villagers selling strawberries and blackberries by the roadside. I am sure you will be happy with their taste even though they cost a bit more than the fruits in the city.

Another option to pamper mothers is Dolce. The brand produces masterpieces with its flowers and cakes, and has been offering its services for 24 years, Dolce's boutique shop and cafe in Arnavutköy is the apple of ladies' eyes in particular. It is unique for its performance at corporate events as well as individual sales.

Nilgün Ertuğ, the creator of the brand, is a former supermodel. She ran her own boutique after she had worked in the fashion sector for many years. However, her business life was interrupted for a while when she got married. She decided to start a business when she divorced her husband, and thought she needed to do something unusual to make money. In the end, she realized that there are a great number of florists in Istanbul. She noticed that the florists were usually males and that they gave the customers the flowers in a bunch and the customers tried to unbundle and arrange the flowers at home by themselves. It was after this observation that she decided to make well-arranged special flower creations. She opened a tiny florist shop in the basement of an apartment in Arnavutköy. Her brand Dolce, meaning "sweet" in Italian, was founded with the thought that anyone who buys flowers will also take a cake or chocolate to go with it. The brand offers boutique cake and chocolate services along with flower arrangements, and is a good choice to indulge mothers at any of its branches in Arnavutköy, Vaniköy and Bodrum. I recommend that you drop by the Dolce cafe, which is one of the very first boutique patisseries in Turkey, and take a look at the choices. You can pay tribute to your mother with a bouquet and an elaborate cake. Happy Mother's Day!
Tips of the week:
Top 3 Venues of the Week
Dirty Hands / Akatlar
Hazine / Cihangir
Room & Rumours / Nişantaşı
Top 3 Hotels of the Week
Hemithea / Marmaris
Sacred House / Cappadocia
Alavya / Alaçatı
Top 3 People to Follow This Week
Beyza Melek / PR Person
Rudolf Vannunen / Master Chef
Tim Walker / Photographer