It has been claimed that people have become anti-social in the 21st century. We became the captive of televisions; we do not know about our neighbors or all we care about is our smartphones and social media accounts. However, social media is full of sociability. We have some applications where we even can find a sports partner for ourselves. Many events have been held at different corners of the city to make us social. Besides, they are announced through social media. What are these events? For instance, a game that 300 people play together in a venue or exercise parties where hundreds of people jump like cheetahs or crawl like crocodiles. You can be a drummer for a day or cycle with 400 people in a club. These are just some of the interesting social parties.
Popular new game
There is a game that has been very popular recently. Its name is Pub Story and it is not a computer game. On the contrary, it is an interactive game played with 300 foreigners at a cafe or a pub. It is played in Istanbul, Eskişehir, Adana, İzmir and Bursa for now. Its spreading to other cities is imminent. In the game, the aim is to abolish anti-sociality. You complete the mission that is given to you with people you don't know through the game and are scored according to your performance. You can follow the dates of the game from "heypubstory." There is a fee to join this three-hour game. If you buy your ticket beforehand via the website, the price is TL 30 ($8). If you buy it on the day of the event, the ticket is TL 40, however, if you buy tickets at the door the price is TL 50. The game starts at 9:00 p.m. and finishes 11:30 p.m. Participants are given a game card and four score coupons and wear a wristband. There are three links on the game cards. You find your missions, entering the first link in your mobile phone. However, you should firstly play rock-paper-scissors with someone you meet at the venue. The winner decides whether he or she will be the one giving the mission or the one taking the mission.
Courage required
The missions on the list, like "tell a shameful memory," are fulfilled in the first hour. Later, the one who gives the missions gives points according to the performances. In the second hour, the missions on the second list are next. However, you need to find a new game friend in the venue for it. There are more interactive missions, like "make 10 people sing a song by the Turkish band Athena," on the second list. As time progresses, the missions require more courage. When the game is over, you can buy gifts from the wonderland corner with your scores. There are gifts such as badges, glasses and game tickets.
Dancing is so mainstream
We go to clubs to socialize, dance and listen to good music. If I say we will go to cycle from now on, what will be your reaction? I can hear that you say don't talk nonsense, but Urban Riders transfer spinning from gyms to clubs.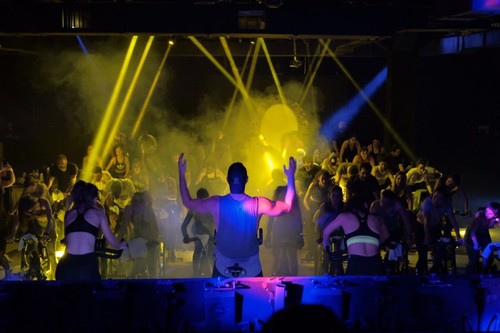 Nearly 400 people attended the last spinning party and four different trainers gave lessons in the four-hour event. You can follow the social media accounts to join the next bike party, which attracts people aged between 18 and 35.
Sweating together
You want to do sports, but don't you want to be alone? There is an application that is prepared exactly for you, that is, it is a social application for the ones who love sweating. You can find friends dealing with different branches, such as table tennis, football, sailing and athletics, in sweaters and do sports together. When you enter the application and find the people doing same sports with you, you call them to do sports with a button. Besides, you can see different events that will be organized soon.
What else?
One of the most popular events is sailing courses. You set sail from Kalamış to Burgazada and return, eating fish and enjoying your time on the boat. Events are often held at Kings Club in Akmerkez. A Brazil fighting art Capoeira event will be organized this weekend. Joining the running groups that meet at Bebek at 7:00 a.m. is a good way to socialize while getting fit.
Gorillas and cheetahs
What about getting inspiration from nature to do sports? One of the most popular events is Jungle Challenge. The exercise, which was designed and launched by the Hillside City Club team, is inspired by the physical features that animals have developed to survive in the wild. You burn 600 calories in 25 minutes. However, the most important thing is that you both socialize and enjoy yourself. Through the event, trainers take the stage and show you how to do exercises. You sometimes crawl like a crocodile and sometimes do squads like a gorilla. There are times that you flap like an eagle and others that you run like a cheetah. The songs that have been chosen specially for the event also make the exercise more exciting. The participation of the Jungle Challenge is generally high. Loving to do sports, self-confident people aged between 18 and 40 have a great interest in it. It is an event that both women and men like. It is organized at different places apart from the gym, as well.
High heels welcome!
If you say, "let's do sports at gyms and dance at clubs" like me, here is a High Heels event for you. Women should come to the party, organized by Dansfabrika at Backyard in Bebek, wearing high heels. Of course, there is no rule like this for men. The aim is to have fun freely and dance a lot. Dansfabrika has other dance events in different concepts, as well. The High Heels event, which starts 10:00 p.m., finishes at 2:00 a.m.
Burn calories playing drums
Imagine that you play a drum at a rock concert with drumsticks. You hit it and enjoy. The Pound Rockout event, founded in Los Angeles and inspired by the infectious effect of playing drums, is especially favored by women. You laugh and let off steam in the 45-minute lesson. At the end of the lesson, you will have repeated 15,000 times and practiced more than 70 techniques. The exercise accompanied by fast music enables you to burn 900 calories. Its name is exercise but it is practiced at nightclubs all around the world and in Turkey. While you are repeating what the trainers do, you will have both danced and got fit. The participation of the parties held at venues like Babylon and Kolektif House is really high.