Barış Kuluç has been producing forged items and hand tools for the company İzeltaş in İzmir province for 17 years.
Kuluç, 40, starts his day by donning heat-resistant clothing. He then proceeds to the hydraulic forging press where tank tracks, motor parts for automobiles and small metal items, such as pliers, hammers and keys, are produced. Standing a half-meter away from the oven, he takes out the glowing steel heated to around 1,200 degrees Celsius with special tongs and then sets the pliable metal into a mold in the forging press.
The forging operator holds the tongs steady with his left hand and uses his right to control the lever of the press that delivers nearly 40-tons of pressure. Through this process, he shapes many pieces in minutes, paying no mind to the shaking floor or sparks of steel flying around him.After the forging is complete, the tongs and water meet, producing a billow of smoke that envelops Kuluç. Press operators follow strict shift guidelines that require one hour of rest for every hour of forging.The products that come out of the presses then move on to different production processes after being passed through crack-detection microscopes.
Chosen ones can work
Barış Kuluç, whose journey with metal work started in secondary school, began to work as a forging operator after graduating from Dumlupınar University Vocational High School's Metal Technologies Department. He said he loves his job, even if it is a difficult one.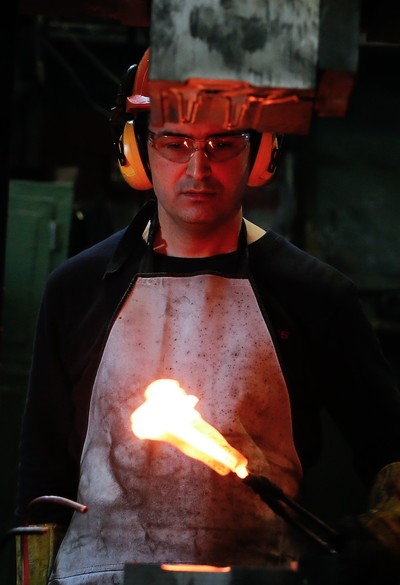 He said the most difficult part of the job is the heat. The operator stressed that they work in front of high-temperature ovens and try to cool down with big fans in an environment where the temperature reaches an average of 60 degrees Celsius.
Although the heat is not a big problem in winter, their working periods can decrease to 15 minutes in the summer. When it is really hot, they halt production completely with the consent of the company's administration.
Kuluç added: "Another difficult part of our job is the possibility of splashing. Even the slightest lack of attention can cause the loss of a limb. Operators must be careful. We work in a shaky environment where everything moves and sparks. We must remain alert. In schools, education about these factors is not provided. Along with caution, physical power is important. For example, there are doors that weigh 250-300 kilograms. Weak people cannot perform this job. Again, it is difficult to do for those who cannot stand the heat. People with health problems shouldn't do this job. Not everyone can shape metal. We are proud of our work. If you can get used to working in front of the fire, there is no problem. We love our job. After all, it is not possible to do it without love."
20 liters of water a day
Kuluç said forging operators are chosen from physically strong, talented people, adding that some people leave the job during the trial period because they cannot stand the heat.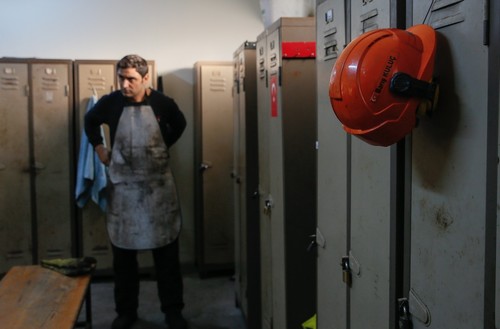 Kuluç said they drink a lot of water because the heat can lead to dehydration.
Noting they drink 20 liters of water a day in the summer, Kuluç said: "Every operator has two water bottles. One he is currently drinking from and a full one for backup. We don't know how much we sweat until the evening. We are all very close and work in solidarity like soldiers in the military. When our shifts finish during summer months, we head directly to the sea. We start swimming at 7 p.m. at the latest in Çeşme, Mordoğan, etc."
He also said the chefs at work know them and serve them little extra each meal. Adding that they finish all the food, Kuluç said: "Everyone thinks that his or her job is difficult. They should come see us. We have dedicated years to this job."
Kuluç concluded that his workplace is one of the best establishments in the world, and he is proud of it.