A choir comprising of Syrian children in Şanlıurfa, a city that houses one of the highest numbers of refugees in the country, will be a cultural ambassador with Turkish, Arabic and English songs, as well as folk songs that they will perform.
At a music course organized by Şanlıurfa Metropolitan Municipality on Sanat Street, 20 Syrian children have been training for nearly two months.
Comprising of children who receive training in accordance with their talents, the choir has performed many Turkish and Arabic folk songs.
Moving forward, the children will introduce the music culture of Syria and Şanlıurfa and will give concerts in nearby cities along with Şanlurfa.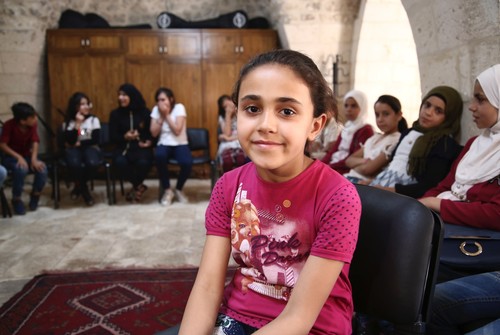 Şanlıurfa Mayor Nihat Çiftçi told Anadolu Agency (AA) that Şanlıurfa is a cultural city, and they do everything that they can to help Syrian people integrate with Turkish culture.
Mentioning that they organize various courses for refugees, Çiftçi continued, "According to official records, there are 524,000 Syrian refugees in our city. Those who come to our city should be integrated into our culture and art. We conduct various works for this aim. We organize courses on Sanat Street for our Syrian guests. A music course has been organized so that Syrian children can learn our music culture. They receive education about both Turkish music and Şanlıurfa's music culture here."
"Our children are trained in instruments, music and art. The group will introduce the music culture of our city. The refugee children will be our cultural ambassadors. They will perform our folk songs in nearby cities as well as at events in our city," he added.
'I gladly sing Sezen Aksu's songs'
Syrian music teacher Faouaz Hassan explained that he is very lucky to deal with music in Turkey. Hassan explained that the music culture of Turkey and Syria are very close to each other.
"We formed a choir including children aged between 8 and 17-years-old on Sanat Street. I provide education about Turkish, English and Arabic music to children along with music technique," he said.
"Besides this, they are learning the folk songs of Şanlıurfa. The music culture of this city is similar to ours. The children are learning quickly. The first song that the children learned was 'Urfalıyım Ezelden' (From Urfa Forever). Soon, our choir will give concerts in nearby cities where they will perform Turkish, Arabic and English songs."
Rahma el-Hammut, 17, one of the children in the choir, said that she likes Turkish music very much.
Noting that she came to Şanlıurfa with her family four years ago, el-Hammut said, "We live in peace here. I am continuing my education and now I am getting music education as well. The choir has been formed and we are learning Turkish and Arabic music. I mostly love Turkish songs. My favorite musician is Sezen Aksu. I gladly sing her songs."
Like her classmate, 10-year-old Esma al-Ali also stressed that she loves music very much and wants to be a vocal artist in the future.