With mass production, skills that were once passed down the generations and planting methods used by our forefathers to grow delicious, sustainable food are slowly fading away.
To prevent the disappearance of local food cultures and traditions and counteract the rise of fast-food as well as people's dwindling interest in the food they eat, the Slow Food movement is encouraging people to be aware of what they put on their plates.
As a part of this movement, Istanbul's Şile, one of Turkey's most important Slow Food destinations, holds the Earth Market every Friday and Sunday.
The Earth Market in Şile hosts local food producers, who use traditional agricultural techniques, from 54 villages surrounding Istanbul.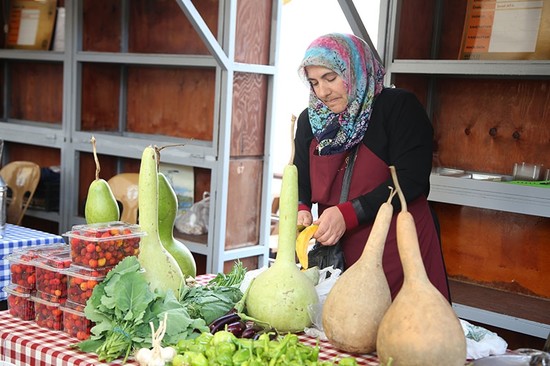 While the market helps local producers grow, it also attracts consumers who want to eat healthier while being able to trace the food to its source. The market skips any middlemen by promoting direct contact between producers and consumers.
Other than Şile, there are only 44 of these markets in the world which aim to use the soil and agricultural products in the most effective way possible.
Slow Food is an organization with a global presence. It was founded in 1989 to preserve local food cultures and traditions and to draw attention to how our food choices affect the world around us. Since its launch, the initiative has become a global movement involving millions of people in over 160 countries, working to ensure everyone has access to good, clean food.
Slow Food believes that food is tied to many other aspects of life, including culture, politics, agriculture and the environment. Through smart food choices, the team believes that they can collectively influence how food is cultivated, produced and distributed, and, as a result, bring change. Focusing on sustainability, Şile Municipality has integrated the market into the other local boutiques, craftsmen and shops that produce not just food but other goods as well.
Şile Mayor Can Tabakoğlu said that Şile has the largest forested area and the most fertile land in Istanbul.
"To make use of our fertile land, the municipality has teamed up with 54 villages and the producers for the Earth Market. The market is a model project for rural areas to build their own economic independence. Around the world, people are becoming more and more concerned about the food they eat; hence, we turned it into a business model and are glad that it has succeeded. Everything we sell here follows Slow Food's main principles: Natural, local and sustainable. There are no artificial ingredients in the food sold at Şile's Earth Market," he said.