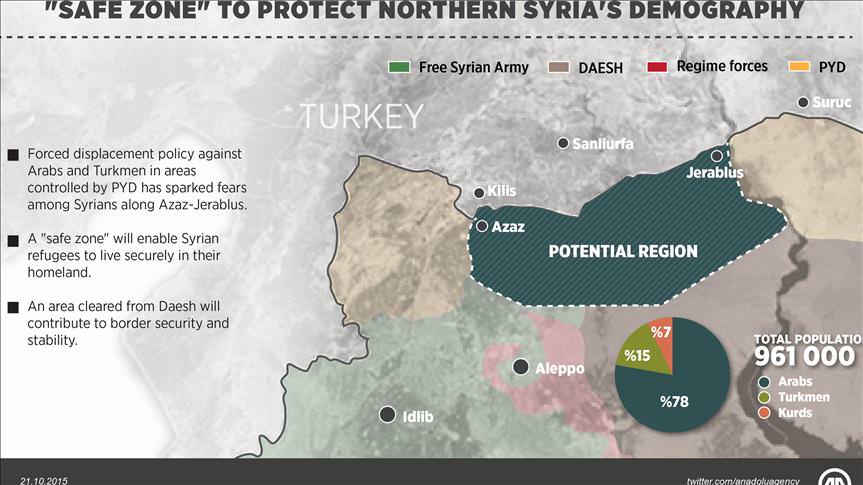 Fresh moves to merge Kobani and Afrin towns in northern Syria by PYD, considered by Turkey to be the Syrian extension of the terrorist PKK organization, has raised fears of forced displacement among Arab and Turkmen populations in the area, sources on the ground, including a human rights activist and a Syrian Turkmen Assembly member, have told Anadolu Agency.
The PYD declared Tal Abyad between Afrin and eastern Kobani as a new canton Wednesday, triggering concerns of another wave of migration to Turkey if the Kurdish group attacked western Euphrates River.
Earlier, the PYD gained control of Tal Abyad region -- which includes Arab and Turkmen villages -- from ISIS in June and increased its dominance in the region that begins from Hasakah province till the western parts of the country.
- Arab, Turkmen majority under threat
The strategic target of PYD is to seize Afrin in the west after uniting Kobani with a region called "Jazeera" canton in Hasakah. ISIS and Arab opposition groups also claim control over the region between Kobani and Afrin.
After taking control of Tel Abyad, People's Protection Units (YPG) forces, PYD's armed wing, forced Turkmen villages to leave the region and threatened residents there by claiming that the U.S.-led coalition warplanes would launch airstrikes in the area.
Meanwhile, Amnesty International in its report on Oct. 13 said that YPG forces in northern Syria had committed war crimes during its battles with ISIS. The human rights body said that thousands of people had been deliberately forced to leave their homes and entire villages were razed to the ground by YPG fighters.
According to local sources who spoke with Anadolu Agency, PYD declared Tel Abyad region as its new canton Wednesday and was now trying to settle in the area permanently. The sources added that the group's next target might be to cross into the western parts of Euphrates River.
Around 961,000 people live along the line between Azaz and Jerablus districts in northern Aleppo, which is close to Turkish border; 78 percent of the population is Arab, 15 percent Turkmen and seven percent Kurds.
- Fears of an impending attack
"The PYD can attack Jerablus [district of Aleppo province] at any moment to merge Kobani and Afrin; it can happen within days or a month," Ekrem Dede, a member of Syrian Turkmen Assembly, told Anadolu Agency.
Dede warned that the PYD would use U.S.-supplied weapons to form a Kurdish region in the north of Aleppo.
He highlighted the fact that Turkmen lived along Azaz-Jerablus. "But PYD is saying to them: 'this is a Kurdish region, the others must get out'," he said. He warned that another massive wave of refugees may reach Turkey because of PYD's latest moves.
Dede said that it would be easy for PYD forces to now attack Jerablus via Tel Abyad.
He called for the region to be declared a safe zone after clearing it from ISIS militants.
Last week, PYD leader Saleh Muslim said that the U.S. had supplied fighters affiliated with his group with around 50 tons of weapons for its fight against ISIS; U.S. officials denied the claim and said weapons were only given to an umbrella group called Syrian Democratic Force, which is fighting against ISIS.
Many Turkmen and Arabs in the region fear that the U.S.-supplied weapons would now be used on them.
Yaseer Mohamed, human rights lawyer and activist in Aleppo, alleged that the PYD would use U.S. weapons to forcibly clear Arabs and Turkmen living in the area instead of using them against ISIS.
"The PYD's purpose is not to repel ISIS from [its stronghold in Syria] Raqqa and its vicinity, but to merge the cantons in northern Syria by tying Kobani, Jerablus and Afrin," Mohamed said.
He said that thousands of Arabs and Turkmen had been forced to leave their homes in Ayn Isa, Suluq and Tel Abyad in northern Raqqa. "If PYD attacks Jerablus and western part of Euphrates River, a migration wave will also begin towards Turkey," he said.
The lawyer also called for a safe zone along Azaz-Jerablus.