France launched airstrikes against DAESH in Raqqa after the deadly attack in Paris left 129 dead. In the three-day-long military operation more than 30 DAESH militants, according to the Britain-based Syrian Observatory for Human Rights reported. Along with French airplanes, Russia also started bombing the city with the aim of punishing DAESH for downing the Russian jet over Egypt that killed 224 people. The two countries vowed to cooperate against DAESH and Russian President Vladimir Putin on Tuesday ordered the Russian missile cruiser Moskva, currently in the Mediterranean, to start cooperating with the French military on operations in Syria. However, the activists on social media claimed that the airstrikes were targeting the civilians as well since DAESH was using the civilian areas to hide. It was reported that Russia bombed also Idlib and Aleppo where dozens of civilians died in the last two days. The activists warned that a new refugee flow may occur unless the attacks distinguish militants from civilians. The Nour al-Din al-Zenki Movement, a Syrian opposition group, claimed that a Russian warplane targeted Idlib province's Benin village using a white phosphorous bomb which killed civilians. Several photos were shared on social media as well as some news agencies, showing the civilian casualties.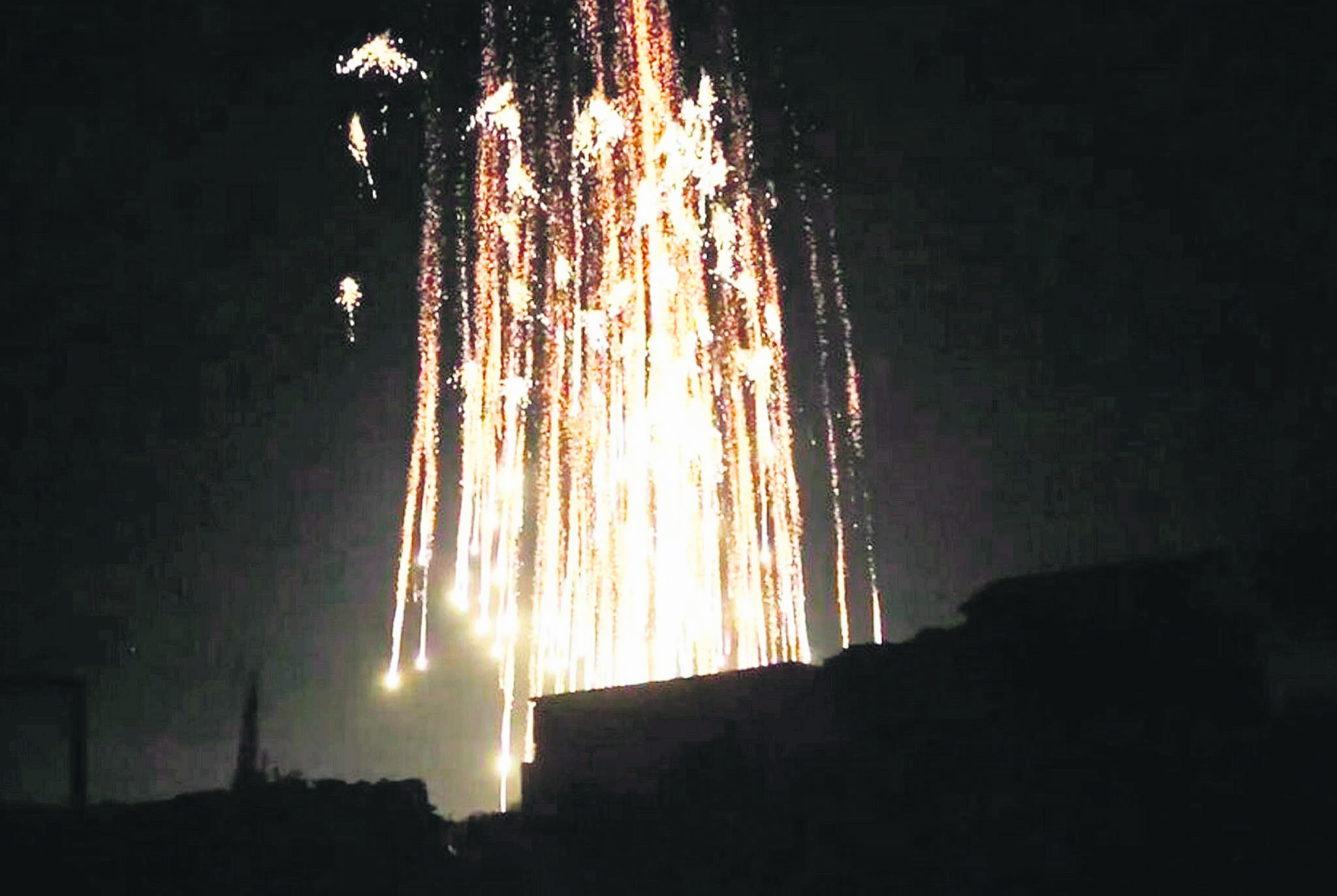 Activists claimed that Russia used white phosphorous bomb in Idlib.

DAESH militants are stiffening their defenses for a possible assault on their de facto capital of Raqqa, as international airstrikes intensify. DAESH fighters are hiding in civilian neighborhoods and preventing anyone from fleeing, former residents say. The northern Syrian city's estimated 350,000 people are gripped by fear, rattled by powerful Russian and French airstrikes that shake the city daily. They are also worried they would be trapped with nowhere to go amid signs of a looming ground invasion by U.S.-allied Kurdish and Arab forces in Syria, according to the former residents who have fled to Turkey and now report on events in Raqqa through acquaintances and activists inside. For months, the anti-DAESH forces have been advancing gradually toward Raqqa with backing from American-led airstrikes, capturing DAESH-held towns to the north and east of the city. U.S. Secretary of State John Kerry on Tuesday suggested Raqqa would be the new focus. "My sense is that everybody understands that with Lebanon's attacks, with what's happened in Egypt, with Ankara, Turkey, with the attacks now in Paris, we have to step up our efforts to hit them at the core where they're planning these things," he said after his meeting with French President Francois Hollande on Tuesday. But the extremists are digging in to make any potential assault as grueling as possible. The city, which they have held since early 2014, lies on the Euphrates River at an intersection of major routes from all directions, most through agricultural areas crisscrossed by canals and tributaries of the river. The closest forces from the U.S.-backed Kurdish-Arab coalition called the Democratic Forces of Syria are 50 kilometers (30 miles) to the north in the town of Ein Issa.
U.S. President Barack Obama also said on Wednesday that Russia had to shift its focus from propping up Syria's Assad and concentrate on the war against DAESH. He said: "The problem has been that their initial military incursion into Syria may have been more focused on propping up Assad and targeting the moderate opposition as opposed to targeting those folks who threaten us, Europe and Russia as well." In response Russian Foreign Minister Sergei Lavrov said on Wednesday the West had to drop its demands about the political exit of Assad if it wanted a genuinely international coalition against DAESH.