A young Palestinian man who was waving a Turkish flag during protests along the Gaza Strip border against Israel's decades-long occupation was shot Tuesday by Israeli soldiers, Anadolu Agency correspondents reported from the scene.
Despite his injury, the Palestinian man continued to hold the Turkish flag while he was being transferred by medical staff to the ambulance.
The man was shot in the foot and is currently undergoing treatment.
During the "return march", many young people have raised the Turkish flag and held pictures of President Recep Tayyip Erdoğan as a show of their support and love for Turkey.
The shooting came as hundreds of Palestinian women converged along the Gaza-Israel security fence to take part in ongoing demonstrations, marking their first mass mobilization since protests erupted on the border three months ago.
Women arrived in buses from across the enclave, many accompanied by their children, AFP correspondents said.
In a statement, the women's committee of Gaza's National Authority for Breaking the Siege called on Palestinian women to take part in the rallies, which first began on March 30.
"We are demonstrating today for a just cause: to end the years-long blockade of Gaza and return to our land that has been stolen by Israel," committee member Iktimal Hamad told Anadolu Agency.
"Palestinian women have paid dearly for Palestine," she added. "We will not give up our land or our legitimate rights."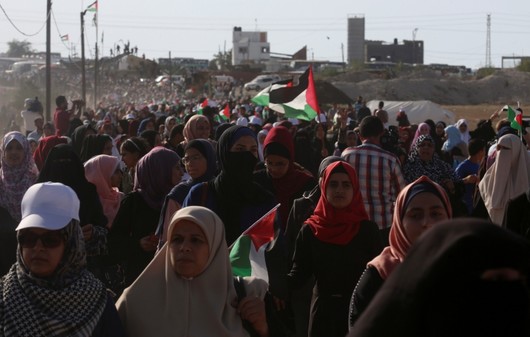 "I came to finish the march that my daughter had started," Rim Abu Irmana said, waving a picture of her 15-year-old daughter, Wasal, who was killed by Israeli gunfire on May 14.
"These demonstrations are peaceful. We are only defending our land and our rights," added the 43-year-old, holding the hand of her young son.
Meanwhile, Palestinian Health Ministry spokesman said some 134 people were injured during the demonstrations.
Ashraf al-Qidra said: "134 Palestinians were injured and affected by gas due to the Israeli army's intervention on a women's march on the eastern Gaza border."
Since the rallies in Gaza first began more than three months ago, at least 138 Palestinian demonstrators have been killed -- and thousands more injured -- by Israeli army gunfire.
No Israelis have been killed.
Palestinians demand the "right of return" to their homes and villages in historical Palestine from which they were driven in 1948 to make way for the new state of Israel.
They also demand an end to the 11-year Israeli-Egyptian blockade of the Gaza Strip, which has gutted the coastal enclave's economy and deprived its two million inhabitants of many basic commodities.