The Istanbul Foundation for Culture and Arts (IKSV) has organized two nights for the passion driven free souls of music lovers, hosting the alternative rock band "Redd" tonight and featuring a special program tomorrow night at their Salon venue, where the '90s cult magazine "Laneth" will bring together successful metal bands like "Pentagram" and "Radical Noise."
One of the most respected bands of the Turkish alternative rock stage, Redd was formed by Doğan and Güneş Duru along with Berke Özgümüş in 2005. Giving a series of concerts and setting their hands to soundtracks, the band has been on the front row in various social responsibility projects and concerts. They gained the sympathy of everyone, including their non-listeners, with their statements and firm stance for freedom of press and against censorship in music.
Even though their music is centered on a different concept with each new album, they have never compromised their musical approach and style. They are now taking the stage at the Salon venue to bless music.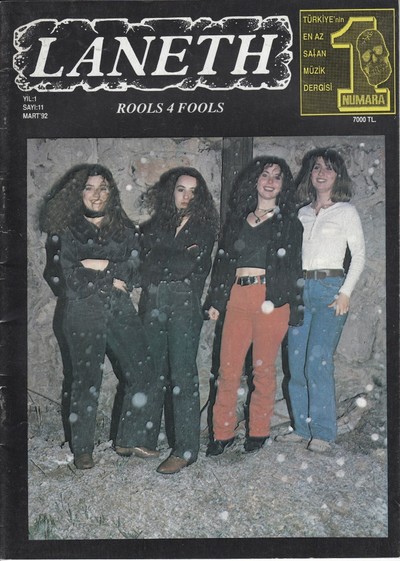 Laneth, a heavy metal fanzine that marked the 1990s, invites all heavy metal and rock fans, as well as the free-spirited to Salon to take a trip down memory lane and pay a tribute to old-school rock music. Laneth was the spokesman for many young groups that could not find a place in the mainstream media in the early 1990s and it quickly gathered a cult following with its legendary interviews and reviews published between 1991 and 1994.
The fanzine turned into a radio program prepared and hosted by Çağlan Tekil on Radio Eksen and has never been left alone by its fans ever since. It will bring together all the long-time devotees of heavy metal music and its derivatives under a single roof.
Hosts Aptulika will welcome Nikki Wild, who is sure to turn the night into an unforgettable experience full of distortions, where all free spirits will pay tribute to the old days of heavy metal.
Following Wild on stage will be Pentagram, which will be releasing a new album in March; "Metalium," one of Turkey's most rooted thrash metal bands; Radical Noise, which gave their latest concert in 2013 and has long been anticipated by fans and finally Razor, who will change his name to Dr. Skull for the night.