With only a few days left until Iran's landmark nuclear deal with major powers enters into force, Iranian-Turkish relations and the new regional dynamics after the nuclear deal were discussed by prominent Turkish and Iranian academics at the Ankara-based Center for Middle Eastern Strategic Studies (ORSAM).
Speaking at the event, New Regional Dynamics and Turkey-Iran Relations after the Nuclear Deal, on Tuesday, Dr. Ahmad Naghibzadeh from Tehran University said that even though there will be improvements in certain areas, he does not expect major changes in Iran after the implementation of the deal. Underlining that strengthening reformist administrations like that of current Iranian President Hassan Rouhani, is necessary to further Iran's integration into the world system, Naghibzadeh said that hardline conservative administrations wreak havoc on Iran economically and politically. "Tensions in Iranian-Turkish bilateral relations will be de-escalated and even regional crises will be softened if the reformists in Iranian politics gain more power," Naghibzadeh said.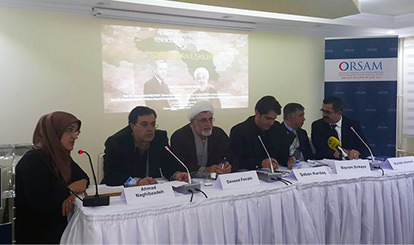 Emphasizing that Iranian-Turkish bilateral relations are experiencing a difficult and turbulent period, Dr. Muhittin Ataman, the deputy coordinator of the Ankara-based Foundation for Political Economic and Social Research (SETA), said that the competitive international political environment after the Arab revolts showed the differences of the politics in the two countries. "Both Turkey and Iran benefit from regional stability," Ataman said, "Therefore, our countries have to work together as this is an inescapable obligation for both of them." Ataman further drew attention to the importance of increasing mutual interdependence in economic and trade relations and asserted that economic interdependency will boost relations in other fields.
Another speaker from Tehran University, Dr. Davood Feirahi, said that the most important result of the nuclear deal is that Iran proved to the world that its nuclear technology is not a threat militarily. "I would expect that Iran will gain confidence and will be a more reliable country in the region after the implementation of the nuclear deal," he said.
Explaining that during the Iran-Iraq war, Saddam Hussein presented the war to the world as an Arab-Persian war, he stressed that there are some international powers that want to start sectarian war in the region, and therefore are presenting the current regional conflicts as a Sunni-Shiite war.
The last speaker on the panel, Dr. Bayram Sinkaya, who is a prominent academic and Iran expert, said that the image of Iran and Turkey reciprocally deteriorated over the last year due to irresponsible and fabricated news articles in both countries. Stressing that both countries should focus on the areas that can increase cooperation, Sinkaya said that after the removal of sanctions, economic ties between Iran and Turkey will improve, but not be boosted as expected. "Iran needs capital-intensive and technology-intensive investment more than other areas, thus these factors will limit economic relations," he explained. Echoing the other speakers on the panel, he said that regional stability benefits both countries and pointed to the importance of restarting high-level cooperation to find common ground in more areas.