Prior to the failed military coup attempt, figures linked to the Gülenist terror organization (FETÖ) had reportedly sent some tweets, which was interpreted by many on social media as implying the coup.
Gülenist academic Emre Uslu, who lives in the United States and is on the wanted list for alleged links to the FETÖ terror organization, said in a tweet: "Those who want to pay for my ticket, please purchase one between July 22 – August 12? You know my email..."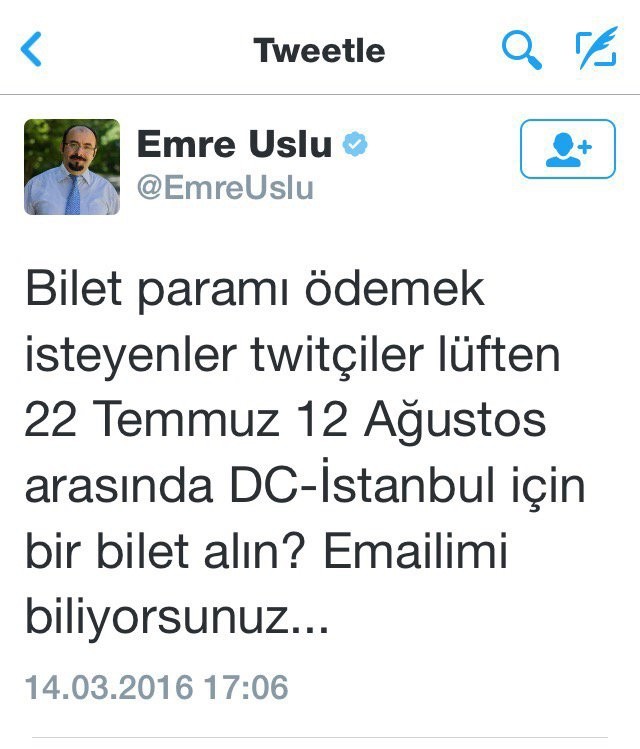 On September 14, 2015, Uslu responded to a Tweet asking him when he would return to Turkey by saying July 2016:
''How long do you think it will take you to visit the homeland even if it's just for a vacation? Or have you completely given up on the idea?'' a Twitter user asked Uslu, who responded by saying: ''July 2016...''


Meanwhile, another Gülenist figure, Tuncay Opçin, said in a tweet on July 14, a day before the coup attempt: "[They'll] raid on [them] in their bed, hang them in dawn."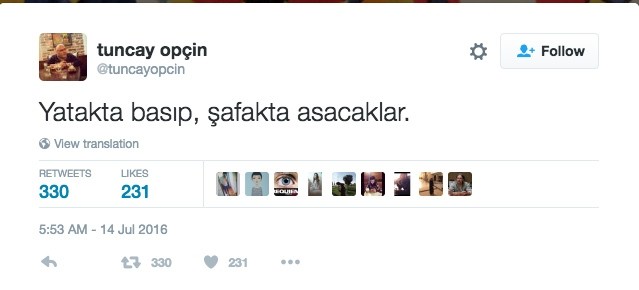 The coup is a work of a Gülenist parallel structure group within the military, Prime Minister Binali Yıldırım said on Saturday in a press conference with Chief of Staff Hulusi Akar, Interior Minister Efkan Ala, and Defense Minister Fikri Işık.
After the soldiers were repelled in many parts of Istanbul, Izmir, and the capital Ankara, where most of the soldiers were positioned, around 1600 pro-coup members of the military were detained across Turkey, while 161 people, including civilians, were killed and over 100 others were injured. Meanwhile, 29 colonels and five generals taking part in the coup attempt were removed from duty by the Ministry of Interior on early Saturday.
Turkey's Prime Minister Binali Yıldırım acknowledged late Friday a group within Turkey's military was engaged in what appeared to be an attempted coup, as army units blocked entrances to Bosporus and Fatih Sultan Mehmet bridges connecting Istanbul's European and Asian sides, while military jets were flying over the capital Ankara.