The rare display of solidarity between the main political parties in Turkey after the July 15 coup attempt was consolidated yet again on Sunday in the mass pro-democratic rally held in Istanbul.
President Recep Tayyip Erdoğan and the leaders of the three main political parties in Parliament, the Justice and Development (AK) Party and the oppostion Republican People's Party (CHP) and the Nationalist Movement Party (MHP) gathered in Yenikapı Square to denounce the coup attempt and to give message of unity.
Following the historic rally, Ak Party's official Twitter account tweeted some of the remarks CHP leader Kılıçdaroğlu and Bahçeli made while addressing the crowd in Yenikapı.
"Turkish people stood strong against the plots played on us, raised the flag proudly without accepting defeat," Bahçeli was quoted in one of the tweets.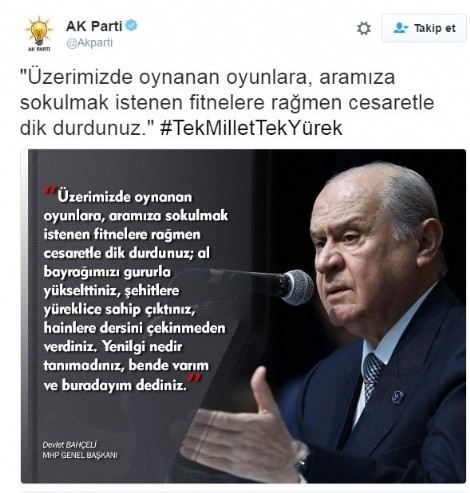 "Those who were killed in the coup attempt wrote their names in the history books, we will not forget them," Kılıçdaroğlu said in the AK Party's tweet.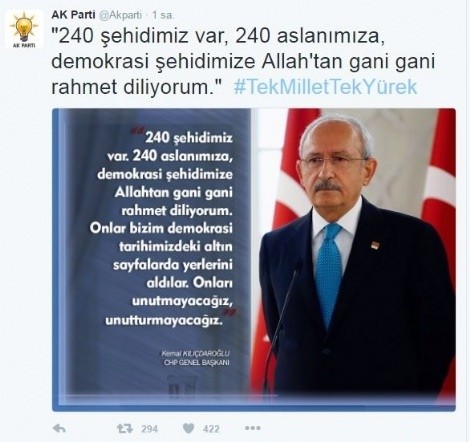 Sunday's massive Democracy and Martyrs' Rally was the first time the leaders of the AK Party, CHP and MHP had shared a platform. Former President Abdullah Gül and former Prime Minister Ahmet Davutoğlu were also in attendance.
Heightened security greeted demonstrators attending the historic rally that police said numbered nearly five million people.
Bag checks and searches were carried out at the rally's entrance points as a police helicopter hovered overhead, and large numbers of police and security personnel, as well as ambulances and more than 700 medics, were on duty for the cross-party event.
Political flags and banners were banned from the rally to underline the political consensus against the July 15 coup attempt.