Republican People's Party (CHP) rebels openly declared a so-called war against the party's Chairman Kemal Kılıçdaroğlu as leading dissident figure CHP Yalova deputy Muharrem İnce on Friday called for an extraordinary congress as soon as possible. Holding a press conference in Parliament on Friday, İnce called on Kılıçdaroğlu to hold an extraordinary congress immediately, saying: "What should be done is easy. What is decent is that our chairman gathers an extraordinary congress in line with our bylaws."
Stressing that the extraordinary congress would also be an election for the CHP's presidential candidate, İnce said the party should reform itself from head to toe. "[The CHP] should change its program, its bylaws, its discourse, language and its management mentality," he said. CHP Vice Chairman Tekin Bingöl announced Wednesday in a news conference that the party's Central Executive Board launched necessary procedures for the party's 36th leadership caucus. However, Bingöl ruled out an emergency congress. After the "yes" vote prevailed in the April 16 referendum, dissenting voices within the CHP have called on Kılıçdaroğlu to gather an extraordinary congress.

However, Kılıçdaroğlu issued a stern ultimatum to fellow party members, saying that he would expel anyone who participates in an intraparty race for chairmanship.

Underscoring that Kılıçdaroğlu should let democracy function within the party, İnce said gathering signatures for an emergency congress instead of waiting for Kılıçdaroğlu's decision to do so would "wear out" the party.

"It is our call. Please do not wear out our party and our country. Do not expand the discussion by stretching it eight months by insisting on an ordinary congress," İnce said, adding that the CHP needs new teams and new assertions.

CHP Chairman Kılıçdaroğlu has drawn criticism on a wide range of issues ranging from his poor performance in elections and referendums to his overall performance since taking office in the CHP in 2010 after Deniz Baykal resigned over a sex tape scandal. Kılıçdaroğlu has lost eight times in elections and referendums so far.

Baykal, a veteran of the CHP, recently said he would stand by Kılıçdaroğlu's side if he decided to be a candidate in the 2019 presidential race. Commenting on Baykal's remarks, Kılıçdaroğlu said he respects his statement, noting: "However, we have boards that make us different from other parties. These boards will discuss the likely presidential candidate," he said.

The CHP held its 35th ordinary congress in Ankara Jan. 16-17, 2016, and Kılıçdaroğlu was re-elected as the party's leader with 990 of the 1,238 votes. He entered the congress as the only candidate, which was interpreted by some as a sign of lack of competitiveness in the party.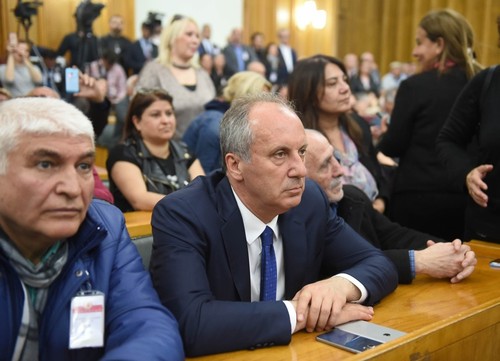 CHP's Yalova Deputy İnce said the CHP should reform itself, its discourse and its management mentality.

İnce previously entered a race against Kılıçdaroğlu, as well. After dissidents called for an emergency congress in 2014, Kılıçdaroğlu gathered the congress. However, İnce lost the race against Kılıçdaroğlu after only receiving 415 votes, while Kılıçdaroğlu bagged 740 votes.

Şahin Mengü, a former CHP deputy and a renowned figure within the party, recently told Daily Sabah that Kılıçdaroğlu's stance is "anti-democratic." Stressing that silencing intraparty voices has never taken place in the history of the CHP, Mengü said such a move would put the party in the same pot with others.

Meanwhile, Prime Minister Binali Yıldırım on Friday urged CHP deputies to collaborate on changes triggered by the country's new Constitution approved in the April 16 referendum.

Referring to a declaration by Kemal Kılıçdaroğlu, who said the party would not name any deputies to a committee to select members of the country's Supreme Council of Judges and Public Prosecutors, Yıldırım said such boycotts would help no one.

"The lawmakers were selected to work for the citizens. To say 'I'm out' shows disrespect to the nation," he added.