Local and foreign tourists who came to Konya province to attend the 744th anniversary of Mevlana Jalaladdin Rumi's death, known as Şeb-i Arus, have shown great interest in felt prayer beads, which are made by felt workers with the motto that all knowledge should reach the heart and love, and become more qualified as they are counted.
Tourists that want to bring special memories home to remember this important week are buying felt prayer beads along with knickknacks, paintings and jewelry.
Renewing their designs for Şeb-i Arus, which means "Wedding Night" in Persian, felt workers are pleased with the attention their products have elicited.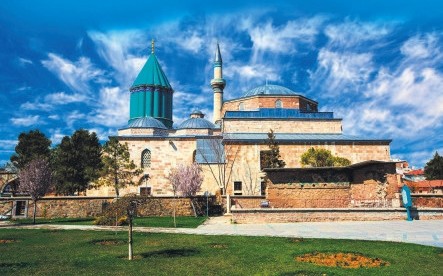 Şeb-i Arus ceremonies are held at the Mevlana Museum in Konya every year.
Celalettin Berberoğlu, who makes his art at a workshop near the Mevlana Museum, said that they presented the products for visitors at Şeb-i Arus ceremonies and that a different souvenir draws attention every year.
Heat and moisture make felt tight
Explaining jewels with the figures of whirling dervishes and the Persio-Arabic letter "vav," necklaces with the Arabic word for "nothing" on them, which represents the concepts of existence and non-existence, and necklaces with the hamsa hand were popular in recent years, Berberoğlu said: "This year, the most preferred objects is felt prayer beads. We firstly didn't want to produce these beads since we thought they could become deformed easily as the raw material is wool. I gave the first prayer beads that I made with wool to one of my friends who often uses beads. He continuously counted it for two months and brought it back to me. I saw that the beads didn't go to pieces in those two months, and on the contrary, they tightened up. Then I recognized that heat and moisture are needed for tightening, and the hand's heat and moisture provide the proper properties. Besides, felt and wool take negative electricity and offer relaxation. We don't know whether the reason is this relaxation or not, but the felt prayer beads are selling like gangbusters. The most preferred handmade souvenirs are these prayer beads."
Noting the prayer beads are also used by people who believe in religions apart from Islam, Berberoğlu said: "Prayer beads are also used in other religions. So, tourists know the meaning of prayer beads."
Vav, the symbol of creation
Going through the production of felt beads, he said: "We use destar-ı şerif miniature, which is an imamah around a cone, which is worn by whirling dervishes, in handmade prayer beads with gemstones. This symbolizes the path of whirling dervishes. We call the hanging part from the tip of the cones 'taylasan.' The color green represents knowledge. The taylasan drops from the left shoulder to the heart. This means all knowledge should reach the heart and love. Otherwise, all the rest is dead knowledge. There is also the letter "vav" on the prayer beads. This is the symbol of creation."
He said that these handmade prayer beads are TL 25 ($6.45), adding: "Mass produced things are everywhere. People can distinguish them from handmade ones and prefer products that take effort."