The United Nations on Thursday accused the Czech Republic of systematic abuses of refugees, detaining them in "degrading" conditions as part of what the UN called a policy to dissuade them from entering Czech territory.
United Nations High Commissioner for Human Rights Zeid Ra'ad Al Hussein on Thursday condemned Czech authorities for detaining refugees for "up to 90 days -- in conditions which have been described as degrading."
He added that by detaining refugees who had not yet applied for asylum, the "Czech government was seeking to deter refugees from entering the country or staying there."
The comments echo those of Czech human rights official, Anna Sabatova who said last week that conditions at a local detention centre for refugees, including children, were worse than in jail.
"The fact that hundreds of children have passed through this facility runs counter to our idea of the Czech Republic as a civilised country," Sabatova said after visiting a centre in Bela-Jezova, northeast of Prague.
She also said that refugees were "degraded in front of their children, being transported to the centre in handcuffs and locked behind a four-metre (13-foot) fence with barbed wire."
Leftist Prime Minister Bohuslav Sobotka told reporters Thursday that the UN's criticism was "out of place" and invited UN officials to come and see for themselves.
"We'll be glad to show them all our detention centres... I think they'll find out the Czech Republic offers standard, decent, reasonable conditions for the accommodation of refugees," he said.
But Justice Minister Robert Pelikan himself had earlier described the Bela-Jezova facility as being "worse than a prison."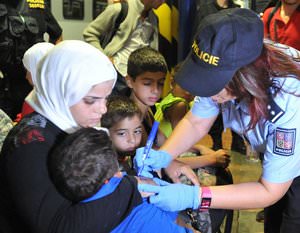 More than 600,000 refugees and refugees, mainly fleeing violence in Syria, Iraq and Afghanistan, have braved the dangerous journey to Europe so far this year, according to UN numbers.
Some EU members have allowed refugees to pass through unhindered en route to their desired target country -- mostly Germany.
But Czech authorities maintain that refugees who enter the country without first made an asylum request in their first EU port of call should be returned to the state from which they arrived, in line with the EU's Dublin Regulation.
As of Thursday, the Czech Republic's four detention centres housed 507 refugees, mostly from Iraq, Pakistan and Afghanistan, interior ministry spokeswoman Lucie Novakova told AFP.
Unlike EU neighbours Austria and Hungary, the Czech Republic has so far received few refugees seeking to transit to Germany and other western European countries.
Last Friday, Czech police said they had intercepted 7,201 refugees in the first nine months of this year, more than double the number during the same period in 2014.
Politicians are quite vocal in their opposition.
Outspoken leftwing President Milos Zeman leads the anti-refugee chorus. He recently told refugees that "no one invited you here."
Zeman also recently said refugees would "respect sharia (Islamic law) instead of Czech laws" and that "unfaithful women will be stoned and thieves will have their hands cut off."
And last Friday, he lashed out at Islamic women wearing the veil.
"We'll be deprived of women's beauty, because they'll be covered from head to toe. This would obviously be an advantage for some women, but they're few and far between," said the president.
The UN on Thursday dubbed his remarks "Islamophobic."
Opinion polls also suggest Czechs are reluctant to take in refugees.
A September survey by CVVM, a polling agency of the Czech Academy of Sciences, showed that one in two Czechs would not accept refugees from wartorn regions.
Four in ten would accept refugees on condition that they return home when the conflict is over, and only four percent would allow refugees to settle in the country.