After killing Free Syrian Army (FSA) members in a clash in northern Syria, members of the PKK's Syrian affiliate, the PYD, transported the dead bodies in an open top trailer.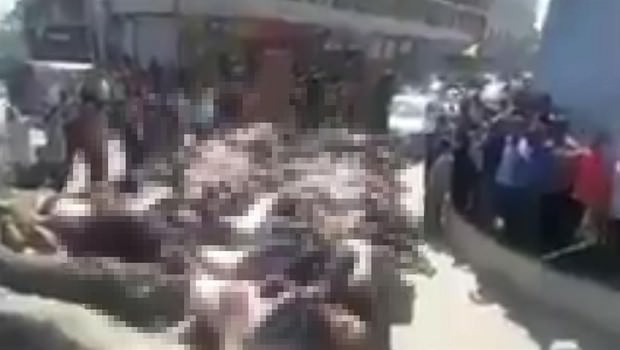 According to local sources and FSA commanders, who spoke on condition of anonymity, the clashes between the FSA and the PYD lasted for about 10 hours Wednesday in the Ayn-Dakna village in Tel Rifaat some 20 kms from the Turkish border.
The sources said that the terrorist PYD group repelled the FSA and it brought about 50 dead bodies of FSA members to Afrin, which is close to Ayn-Dakna.
A resident in Afrin told Anadolu Agency that the PYD transported the bodies in an open top trailer.
The militants also reportedly posted the images on social media.
The video footage purported to show PYD terrorists putting the bodies on an open top trailer, parading them in the streets of Afrin.
The authenticity of the footage could not be independently verified.
The sources said those FSA members who lost their lives in the clashes were citizens of Tel Rifaat. They added there was no Kurdish population in the region.
The PYD already controls most of northern Syria -- along the border with Turkey -- and is preparing to declare a federal system, a PYD spokesman had said in March according to some media reports.
However, Kurdish, Arab and Turkmen groups reject the federal system.