The U.N. High Commissioner for Human Rights on Tuesday slammed European nations for a lack of empathy toward Syrian refugees flowing into the continent.
"I wouldn't agree with many of the observers who characterize what is happening in the Europe as a migration crisis. It is a European crisis. It is a crisis of absence of empathy. It is a crisis of humane thinking. That is where the problem essentially lies," Zeid Ra'ad Al Hussein said during a panel at the Brookings Institution think tank in Washington.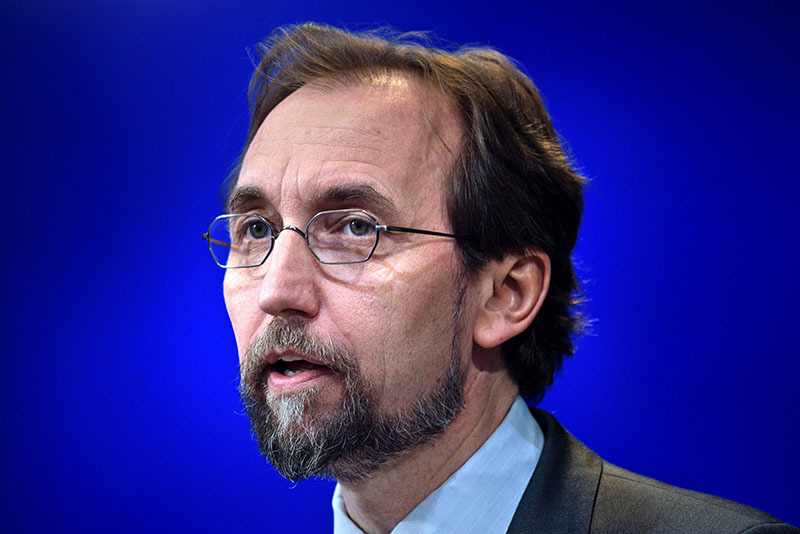 He said that the refugees who arrived on European shores because the conflict has driven them out of their homes are facing not only barriers and wall fencing at the borders, but they are discriminated against by Europeans.
Up to one million refugees have arrived on the European continent since the Syrian war began.
Hussein said what Syrian refugees are experiencing was a failure of the system Europeans established after World War II to prevent similar problems from expanding, referring to the structure of the UN Security Council that blocks the international community from taking action on the Syrian crisis.
The five permanent members of the U.N. Security Council have veto power to take action and Russia so far has blocked several resolutions against the Syrian government as Moscow is an ally of the Bashar al-Assad regime.
"We see the extreme becomes possible," he said, adding that even European leaders take odd steps against refugees.
"When I was in Vienna the other day the presumptive - actually I should be careful about what I say because there is a presidential election on the 22nd of this month - the leading candidate, the candidate of Freedom Party carries a xylyl because he has said publicly he defend himself against migrants."
Xylyl is an irritant chemical used in tear gas. He was referring to Norbert Hofer who is running for president in Austria.
"I mentioned this to some American friends. They said you know what, not too many people will be disparate by this if you are speaking about a U.S. context," he said. "What is happening to us?"
Expressing his hope for a conclusive solution to the Syrian war, Hussein said: "Accountability has to be featured into whatever final design of the Syrian talks takes."
The Syrian war has caused deaths of nearly 300,000 victims and displaced 10 million.
Responding to a question of whether the UN Security Council would have a role in negotiations about Syria in Geneva, Hussein said he anticipates there would be a role for the council, but admitted, "I don't know what shape it will take."