"Tourism 100," a list of top money makers in the tourism sector was released Thursday by the World Tourism Forum in partnership with Nielsen Media Research.
The list consisted of leading businesses with the highest reported turnovers based on 2015 fiscal data, including major airline companies, travel agencies and global hotel chains whose shares are publicly traded in stock markets worldwide.
Airlines Top 40 (2015)
Data based on reported turnover rates indicated that three American airlines topped the list with a high passenger circulation thanks to 320 million population compared to other airline companies. American Airlines Group topped the list, followed by Delta Airlines and United Continental Holdings.
Germany's Lufthansa Group came fourth on the list. However, it remains to be seen whether the company will be able to hold its place in 2016, which has been a very difficult year for the German airline, amid pilot and workers' union strikes that resulted in the cancellations of hundreds of flights. Air France and KLM followed Lufthansa in fifth and sixth place, respectively.
China Southern Airlines was ranked ninth on the list, attributable to the dense population in the country, followed by Air China positioned in 10th place.
Meanwhile, Turkish Airlines (THY) was the 18th largest company in the world, based on its turnover. It was chosen "Best Airline in Europe" for the sixth consecutive year in the Skytrax World Airline Awards.
Hotels Top 40 (2015)
The Hotels Top 40 list may not come as a surprise for many since the names belong to the most recognizable chains with a global presence. The U.K.'s Intercontinental Hotels Group, with its 5,099 hotels, all over the world, topped the list with the highest turnover. The group also owns names like the Crowne Plaza and Holiday Inn.
It was followed by two American chains, Marriott International and Hilton Worldwide Holdings, coming in at 2nd and 3rd place on the list.
Advertisement expenses
Nielsen has also listed the top 10 countries in terms of expenditures on tourism ads. The U.S. had the highest share, followed by Spain, Italy, Germany, the U.K., Turkey, Netherlands, Norway, Belgium and Ireland.
What happens in a minute?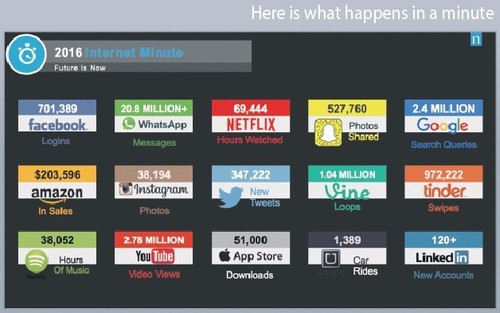 In one minute, 3.419 billion people of the world's 7.395-billion population actively use the internet while 2.307 billion of them are active social media users. The unique mobile users have 51 percent of penetration with 3.790 billion and 1.968 billion people are active mobile social app users. Meanwhile, 42 million, some 53 percent of Turkey's 79.14 million population are active social media users.
What makes these numbers so unique is that as internet usage increases, the amount of attention people give to online platforms increases, especially on social media.
According to research, 51 percent of social media users prioritize their holidays as one of top three post types, as they like to share their travel experiences with their friends and relatives while 84 percent of people choose their travel destinations based on destinations previously booked by friends and relatives. This percentage makes social media posts more valuable, as they help people decide where to go. This can be an opportunity for tourism companies, as it can provide them an insight on what people are interested in.