Antalya is undoubtedly Turkey's summer tourism capital. Besides famous tourist spots like Aspendos theater, Kurşunlu waterfalls and Karain Cave, the city is famous worldwide for its beaches and the deep blue sea. I am sure, even the Roman Emperor Attalus, from whom Antalya gets its name, could not have imagined how popular Antalya would become.
The city offers a selection of five-star hotels and one of them is Akra, which is located in the heart of Antalya.
Antalya has been home to many civilizations since the Lycians and bears the traces of ancient Greek civilization. The name Akra comes from the Greek word Akropolis, meaning white, pure and zenith.
This 471-room hotel is located on a cliff by the seashore and offers a magnificent view of the Mediterranean Sea and Bey Mountains. Under the consultancy of Cem Kınay, a famous tourism pioneer, Akra Hotel has made the "Urban Social Concept" real.
Special programs have been developed to let the customer enjoy special experiences and a lot was invested since the hotel re-opened in 2014 following a big renovation. The hotel even had its own fragrance designed by a world-famous perfume expert.
The infinity pools, the onyx marbles used in the entire building, and especially the wooden coverings in its corridors, where the presidential suites are located, are just wonderful.
In order to access the presidential suites on the top floor, you'll need a special card that also allows you to enter the suite rooms' corridor. There are only eight of these high-ceiling penthouse apartments. Some of the rooms use Molton Brown bath products and come with a terrace.
There are private pools where you can host guests and enjoy the sun and scenery.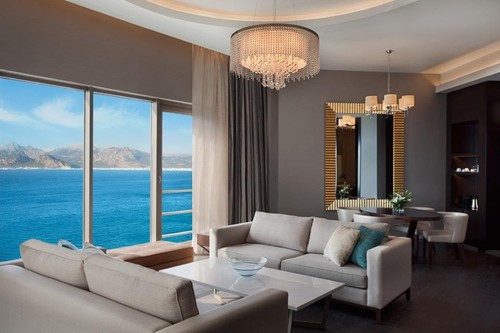 The presidential suites are connected to the hotel's executive lounge area. Just like the suites, the standard rooms are also very well equipped. I especially liked the pillow service, where you can pick from different types of pillows free of charge.
Environmental awareness maintained at the Akra is also worth five stars. If you do not want your room to be cleaned, you can leave a note at the door and in return, the hotel will offer you a gift voucher that can be used for your hotel expenses. You not only save the planet here and you also save your pocket!
The meals here are quite assertive. The restaurant on the top floor, named "Asmani" is mainly sushi and seafood based. On the ground floor, there is another restaurant that offers Cuban cuisine.
The morning breakfasts are served in an open location inside the hotel's garden. The detox fruit juices served in breakfast are fabulous.
Akra also boasts a Life-Co health center, which has its centers in Bodrum and Thailand. I didn't know that there was one in Antalya. The city's largest gym is also located in this health complex and you are sure to feel reinvigorated by the health services provided here. You can choose colon cleansing, lung cleansing, oxygen therapy, detox programs, anti-aging cares and much more. There is even an infrared ray sauna.
Aerodynamic gymnastics instruments that open the lymphatic channels are some features that make this facility special. After the doctor's examination, you can determine a suitable program.
The facility itself is quite relaxing. Bamboo furniture, tropical plants, and pastel-toned designs only add to its appeal. You can benefit from the health services by staying at the hotel on a package of your liking.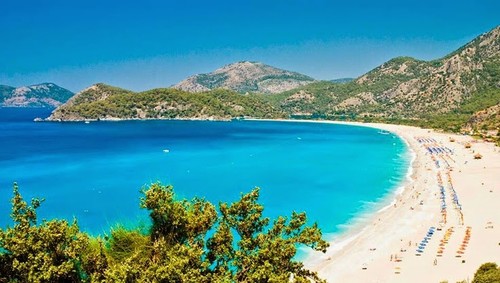 Within the program, you will have your meals at the restaurant named "Saf" located in Life-Co. Here your daily meals will be served according to your doctor-specified program. Apart from that, detox fruit juices, special tea blends, and herbal products are also offered at the restaurant.
Spa services, including especial types of Indian massage, are also provided at Life-Co. There are many varieties for those who are interested in Indian healing system using natural means Ayurveda.
There is an indoor pool and a heated outdoor pool. You can enjoy your time at this pool which is at body temperature even on cool days. Besides, Aqua Baby, one of the biggest international swimming schools for children, also operates a branch at the hotel. You can let your children take swimming lessons at the special pools under some of the professional instructors. In summer, it also provides diving training to adults in the open sea.
Akra Hotel also organizes a guest speaking/meeting series as part of Urban Social Concept studies. They host famous authors, artists, chefs and many other talents to enrich your holiday, with some boutique conferences.
Tips of the week

Top 3 Venues of the Week

- Zuma / İstinye
- Asmani / Antalya
- Capricorn / Ortaköy

Top 3 Hotels of the Week

- Akra / Antalya
- Bella Sombra / Bodrum
- Nars Hotel / Ilıca

Top 3 People to Follow This Week

- Nilay Örnek / Gourmet
- Deniz Özgün / Photographer
- Can Yunus Çetinkaya / Fashion Designer