Doğukan Kaya was leading a normal life until seven years ago when his girlfriend left him for a reason he still does not know. After the messy breakup, Kaya left Istanbul for the western coastal city of İzmir and started living on top of a bus stop.
The year 2008 was a turning-point for Kaya, when he left the mega-city Istanbul to live in İzmir's heart, Alsancak district, which is home to one of the best places in the city to live in. But not for Kaya, he lives constantly with a trash bag on, at the top of the Montrö bus stop, thanks to a friend's limited financial help.
Kaya reportedly said, "I have been here for about seven years. I think I have gone a bit mad after falling in love with a girl, I think she left me for that reason."
"She left me, and so I have left İstanbul," he said.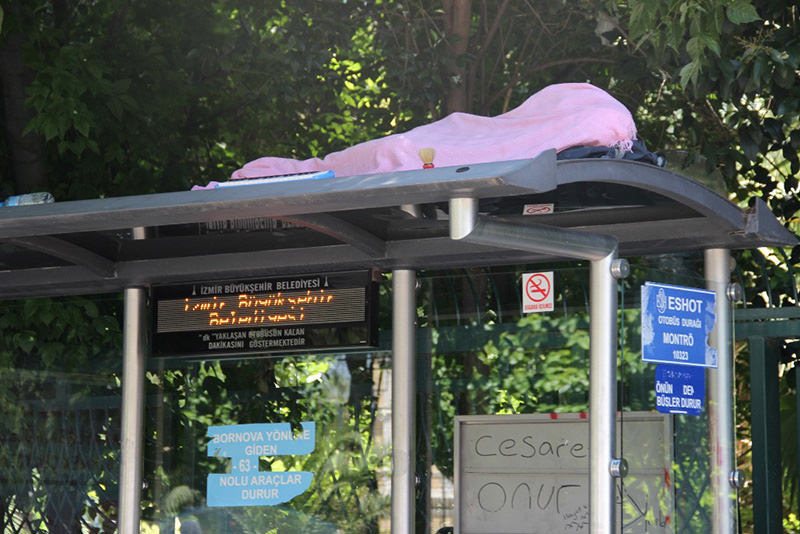 Kaya stated that he spent all his time lying on the top of the bus stop, and went out for walking at nights to tire himself.
"I come back to this place [bus stop] when I feel tired. People get surprised when they see someone lying on the top of the bus stop," he said.
Kaya said, he has not been working since he left Istanbul, but he himself is shocked at his own situation. He said, he cannot even comprehend how time has passed so quickly since 2008.
The Montrö bus stop has not been the only stop that has welcomed Kaya. He said, he was living on top of the bus stop just across Montrö, but after a while, since the trees constituted a danger in terms of falling on him, Kaya, just by walking literally less than 10 seconds, moved into his new home.
"I have been lying on this bus stop [Montrö] for the last 2.5 years," Kaya said.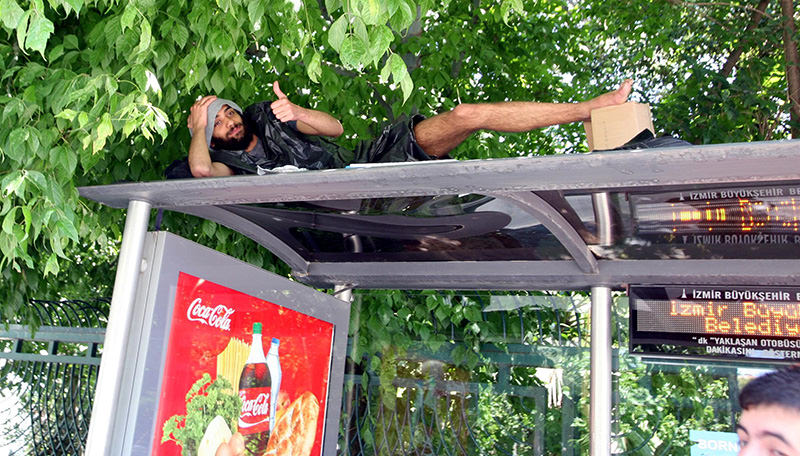 Kaya has been wearing the same outfit for the last seven years, but seems happy with it. He also touched upon the trash bag he has been wearing for the last five-six years, mocking himself for wearing it.
He said, "I believe putting on a trash bin will leave its mark [on fashion industry] in 2016."
The young man has lost his house and his girlfriend, but it is not for certain that he is not short of humor: he calls himself "Bus-Stop Tarzan."