İzmir First Administrative Court rejected on Wednesday the establishment of a tourism center called "Altınkum Turizm Merkezi," which was to be built on 223 hectares of land in the coastal town of Çeşme. The decision to establish the center was first approved by the Ministry of Environment and Urbanization in 2013, but based on the reason that such a "dense establishment" would instead damage tourism in the region rather than benefitting it, the president of İzmir Chamber of City Planners, Özlem Şenyol Kocaer filed a lawsuit, objecting the establishment of the planned tourism center.
Kocaer won the lawsuit on Wednesday, therefore preventing the investment of about 10 five-star hotels as well as golf ranges on the land. She reportedly said that tourism potential in the area can stay intact only when nature is untouched.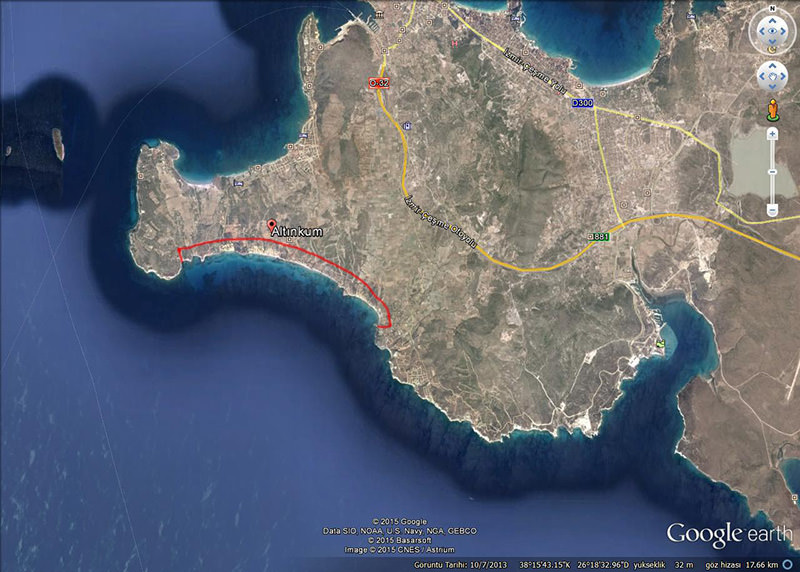 The court's decision is likely also to negatively affect the Russian billionaire Mikhail Dmitrievitch Prokhorov (the owner of the American basketball team the Brooklyn Nets) as he had paid 20 million dollars to buy 17.5 hectares of land in the area. There were many other domestic and foreign companies waiting in line to invest in the area if reconstruction permits were given by the court.
Çeşme is a coastal town and the administrative center of the district of the same name in Turkey's westernmost end, on a promontory on the tip of the peninsula which also carries the same name and which extends inland to form a whole with the wider Karaburun Peninsula.
It is a popular holiday resort and the district center, where two thirds of the district population is concentrated. It is located 85 km west of İzmir, the largest metropolitan center in Turkey's Aegean region.