A tank, an armored personnel carrier and khaki-colored trucks full of soldiers armed to the teeth are intimidating sights even in peacetime. Yet they were not intimidating to a public that vowed to stop any attacks on democracy in Turkey on the night of July 15. In a death-defying feat, hundreds put themselves in harm's way by confronting tanks and troops pointing their rifles at them when the Gülen-linked junta attempted to seize power in the country.Stories of people risking their lives to confront the coup plotters provide a guidebook on how to stop a coup attempt effectively. Tips by social media users and military experts on how to render military vehicles ineffective and how to stop heavily armed people in the case of a coup attempt provide an insight on survival during the fight for democracy.

Images resembling the legendary Tank Man, a lone man standing in front of a column of tanks in 1989 during China's Tiananmen Square protests, were among the first photos news outlets published after tanks and armored personnel carriers rolled on to the streets and headed to public buildings to seize them. Running towards the tanks was the first instinctive behavior of people bent on stopping the troops.

Avoid lying sideways in front of tanks
Lying sideways is apparently not an effective solution to stop massive combat vehicles, as their treads will likely crush your limbs. Sabri Ünal was among the lucky civilians spared from death despite his death-defying actions. The 34-year-old anti-coup activist from the Üsküdar district on Istanbul's Asian side made headlines when security camera footage showed him gesturing for fast-moving tanks to stop as he runs towards the vehicles rolling down the street. The tanks ignored the protests and tried to mow down Ünal, who instinctively lay down at the last minute. He survived and leaped back to his feet again, but another tank in the column advanced. Ünal lay down once again but a slight change in his position caused the next tank to injure him. "I left home when Prime Minister Binali Yıldırım called for people to take to the streets against the coup. There were no buses to places that the junta was trying to occupy. I joined others marching on the street. I came across a military unit first. I argued with their commander and told them to stop the coup. I then headed to Bağlarbaşı when I heard tanks were firing on people. I had three stones in my hand and threw them at moving tanks and shouted for them to stop. They didn't. When I realized at the last moment that they would crush me, I lay down. The first tank stopped after going over me and then moved. Then the second one came and I lay down again, right on a spot where the tank's middle section would be but it still ran over my arm," he told the Doğan News Agency. Ünal survived and is awaiting surgery, although doctors say his seriously injured elbow cannot be restored to its former state.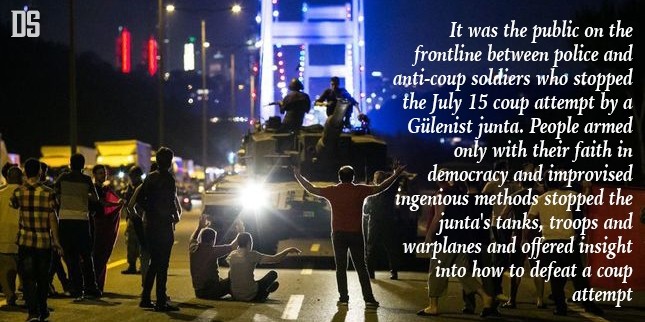 Though Ünal survived, some 246 people including members of the security forces were killed in attacks by coup plotters, and more than 1,500 others were wounded during the coup attempt.

Get closer to tanks

Another piece of advice to anti-coup fighters on social media was to approach tanks, at least those that are not moving, as close as 25 meters so you won't be visible to troops inside. During the coup attempt night, many observed this and even tried to climb on the vehicles. This advice can be useful if tanks are immobile, as the crew of a tank, once they are inside the tank rather than manning the turret, have limited range and visibility of the environs.

Some civilians trying to stop tanks also used spray paint and powder inside fire extinguishers to block the view of tank crews.

Stick iron bar in treads

An iron bar that is long and thick enough to stick into the spaces in a tank's treads can stop it although it is not a method tested so far. Still, social media users urged anti-coup activists to give it a try, claiming treads will stop working if this happens, like a skipping bicycle chain.

Set hay bales on fire

In the capital Ankara, Akıncı Air Base was at the heart of the coup attempt. This was where Chief of Staff Gen. Hulusi Akar and military brass opposing the coup were held by coup plotters and where fighter jets took off for airstrikes against any place resisting the coup. Hundreds flocked to the base upon hearing the news of the coup and call by the country's leaders to stop it. Locals residing near the base came up with a way to stop airstrikes. They piled up hay bales they found and car tires and set them on fire in a bid to limit the visibility of aircrafts. When they deemed it might not be sufficient, some locals in the rural neighborhood set their own fields on fire. They then headed to the base and tried to force their way inside. Coup plotters responded by firing on the crowd, killing seven and injuring 59 others.

Lokman Ertürk, mayor of the Kazan district where the base is located, told Ihlas News Agency they largely succeeded despite resistance by coup troops. "We saw only three aircrafts taking off after the crowd pressed on to stop flights from the base," Ertürk said, adding some locals managed to sneak into the base and lay on the runway to stop the aircraft.