Sunday will mark a new chapter in Turkey's bid to become a fully fledged democracy without the threat of military coups. In an unprecedented move, the leaders of the ruling Justice and Development Party (AK Party), opposition Republican People's Party (CHP), Nationalist Movement Party (MHP) and people from all political spheres pledged to be in Yenikapı, a seaside square in Istanbul, for a grand pro-democracy rally to decry the July 15 coup attempt. The "Democracy and Martyrs" rally, as it is called, will bring together President Recep Tayyip Erdoğan, Prime Minister Binali Yıldırım, CHP Chairman Kemal Kılıçdaroğlu and MHP leader Devlet Bahçeli, a quartet that previously wouldn't be seen together even for a photo-op. Erdoğan and political leaders will join an expected crowd of more than 3 million people from different sides of the political spectrum. Stripped of any political signs, posters or discourse as Erdoğan and others promised, the rally will mark Turkey's unity against coup attempts, which the country suffered multiple times in the past half century. The last putsch attempt by a junta associated with the Gülenist Terror Organization (FETÖ) was staved off by civilians and security personnel on the night of July 15. It was the first time the public, who was intimidated into obeying the 1960 and 1980 coups by juntas, dared to take to the streets, after calls by Erdoğan and Yıldırım.
Hundreds were killed by troops in the process, but the unarmed public, aided by police outgunned by coup forces, managed to stop the troops by standing in front of the tanks, forming human shields outside strategic locations and blocking coup troops from leaving their bases.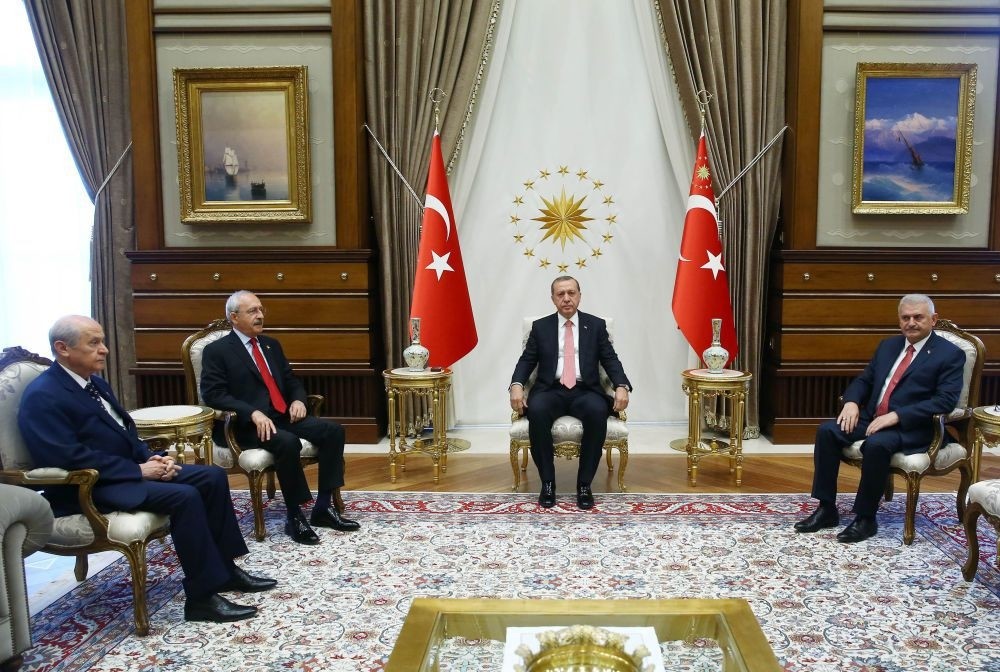 Bahçeli was the first opposition leader to announce that he would attend the rally. Kılıçdaroğlu expressed unwillingness to attend at first although the CHP agreed to send a delegation of lawmakers. On Friday, Selin Sayek Böke, the deputy chairman of the CHP, told reporters that Kılıçdaroğlu decided to join the rally after reviewing his decision not to participate with fellow party members. "Our lawmakers would be there just like they stood together with lawmakers of other parties at Parliament when Parliament was bombed on the coup night, but our administration reviewed the decision upon calls by the public and he decided to go. Our loyalty to democracy, faith in supremacy of the law and eternal respect for martyrs remains firm," Böke said.

President Erdoğan said in a televised interview on Thursday night that Sunday's rally will be free of party flags and participants would be advised to carry Turkish flags only."We desire to give a message of unity with Prime Minister Binali Yıldırım, MHP Chairman Devlet Bahçeli, Mr. Kılıçdaroğlu and our parliamentary speaker İsmail Kahraman. This will strengthen our unity, togetherness and brotherhood because this is what our nation needs at the moment. We don't need differences to dominate us and we should not allow our differences to prevent us from coming together," he said.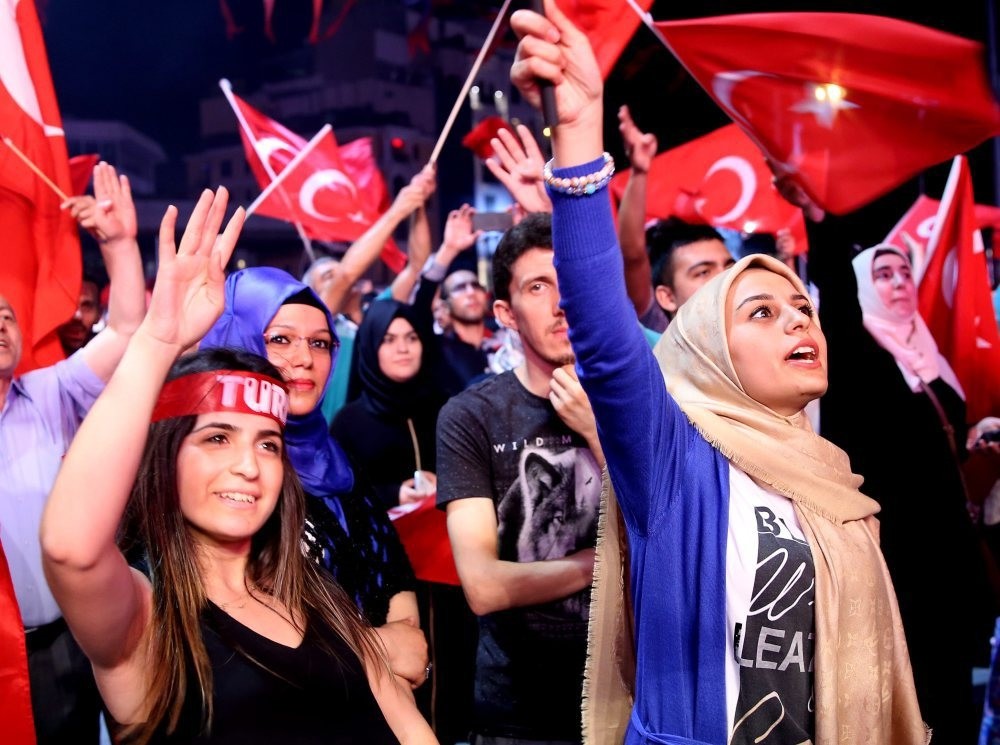 Several nongovernmental organizations and major labor unions also announced that they would join the rally, which will supposedly be a culmination of "democracy watch"rallies that have continued since the coup attempt. Erdoğan and Yıldırım have appealed to the public to "claim the streets" immediately after the putsch attempt, "for democracy" and since then, rallies with a huge turnout are held every night in 81 provinces of the country. Those rallies will continue until Wednesday. The democracy watch is a tool for Ankara to mobilize the public against any coup attempt and authorities have repeatedly warned that "danger was not over yet" after July 15, even though the extent of a new coup threat remains unclear.

The coup attempt has unexpectedly brought together the opposition and ruling party as well as president. Following the putsch attempt, Kılıçdaroğlu, who previously faced multiple lawsuits by Erdoğan over his remarks that the president thought were insults, has joined Bahçeli for the two politicians' first visit to the presidential palace since Erdoğan was elected to office in 2014. The two politicians later met Prime Minister Binali Yıldırım and voiced support for post-coup efforts by the government to fight against FETÖ. As a gesture of goodwill, Erdoğan has retracted lawsuits he filed against Kılıçdaroğlu and other politicians, and Kılıçdaroğlu later responded by withdrawing lawsuits against Erdoğan.

The CHP and MHP, which have largest electoral share respectively after the AK Party, have announced that they were on the same page against the coup attempt and FETÖ. Bahçeli has said the July 15 event was an invasion of Turkey. Underlining that no previous coup attempts had such a devastating impact on Turkey, Bahçeli said continued by saying that the forces that stand against Turkey's very existence are giving leverage to the leader of the terrorist organization, Fethullah Gülen, adding that the Gülenists are being utilized as weapons. "In our opinion, the attempted coup July 15 was an invasion of Turkey. FETÖ are enemies of religion and faith. It is an organization which dared to damage the Turkish state, just like the PKK. They aimed at disintegrating Turkey by hijacking all state institutions and disarming security forces."

Similarly, Kılıçdaroğlu declared the coup plotters a common enemy. "Commitment to democracy has emerged as a large common ground. Turkey's ability to bounce back and develop a common language was due to their sacrifice. The spread of FETÖ within the Turkish Armed Forces is something we should all think about. Political parties have certain differences of opinion, but we must all work together to promote democracy and meritocracy in Turkey," he said in remarks last week.

Preparations are currently under way for the event. A huge stage will be erected in Yenikapı, as well as large TV screens and sound systems. Around 13,000 people, along with police officers, will be on duty to organize the event, clean up, and do technical work. Helicopters, ambulances, and over 700 medical personnel will be there to provide health care services. Similar rallies will also be held simultaneously all across the country. A busy stretch of the road near the rally site will be closed to traffic from six in the morning to midnight for easier travel to the site by millions who will benefit from free shuttle services and subway located near the event site. Some 250 boats will also offer transportation for participants traveling from Istanbul's Asian side. All mass transit vehicles will be free of charge throughout Sunday all across Istanbul. Participants will also be offered free Turkish flags.

Families of those killed by coup troops and those injured in attacks by the Gülenist junta during the putsch attempt will also attend the rally. Mehter bands, Ottoman military bands which have been present in every pro-democracy rally, will also perform at the Yenikapı event.

Around the country, democracy rallies were under way on Friday. Squares and streets were filled with people waving Turkish flags in the rallies, while politicians, celebrities, dignitaries addressed the fervent masses, denouncing the coup plotters and FETÖ.