Bad weather has disrupted daily life across Turkey on Thursday with floods and rain storms taking over cities across the country. Four people were killed in a bus accident due to bad weather in northern Turkey while a woman drowned in floodwaters in a southern city.
Strong winds, rainfall –and snowfall in some cities- led to closures of roads, a slowdown in traffic and a one-day closure for schools in 20 cities, including in the capital Ankara.
Istanbul, Turkey's most crowded city with a population of more than 14 million, was hit by severe rainfall that continued throughout Thursday, along with strong winds that tore off roofs, toppled cranes and led to the cancellation of flights and ferry services.
Snowfall was forecasted for the city early today. Traffic was brought to a halt in rush hour across Istanbul. A crane used in renovation work at a bridge in city's Büyükçekmece district, was toppled by winds and collapsed on a main highway, blocking traffic for hours.
Ferry service between Istanbul and northwestern Bursa, Yalova, Balıkesir was limited due to strong winds, the operator IDO announced on its website.
Turkish Airlines also announced that 38 domestic and international flights had been canceled on Thursday, and 26 flights on Friday.
More cancelations are expected for today. Incoming passenger planes had to delay their landings for a while as strong winds and rain blocked visibility.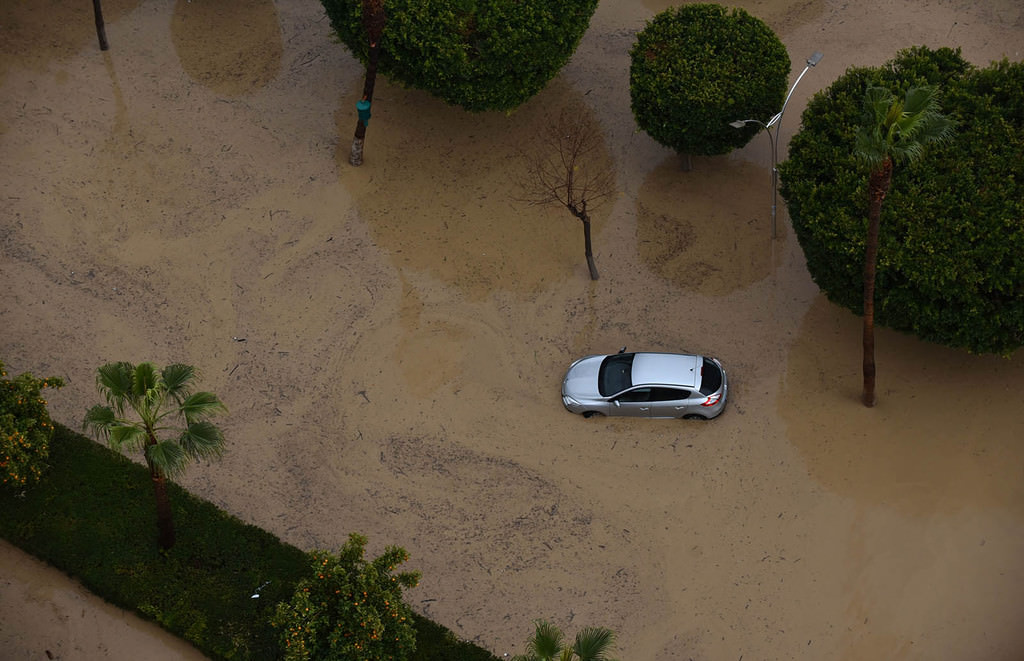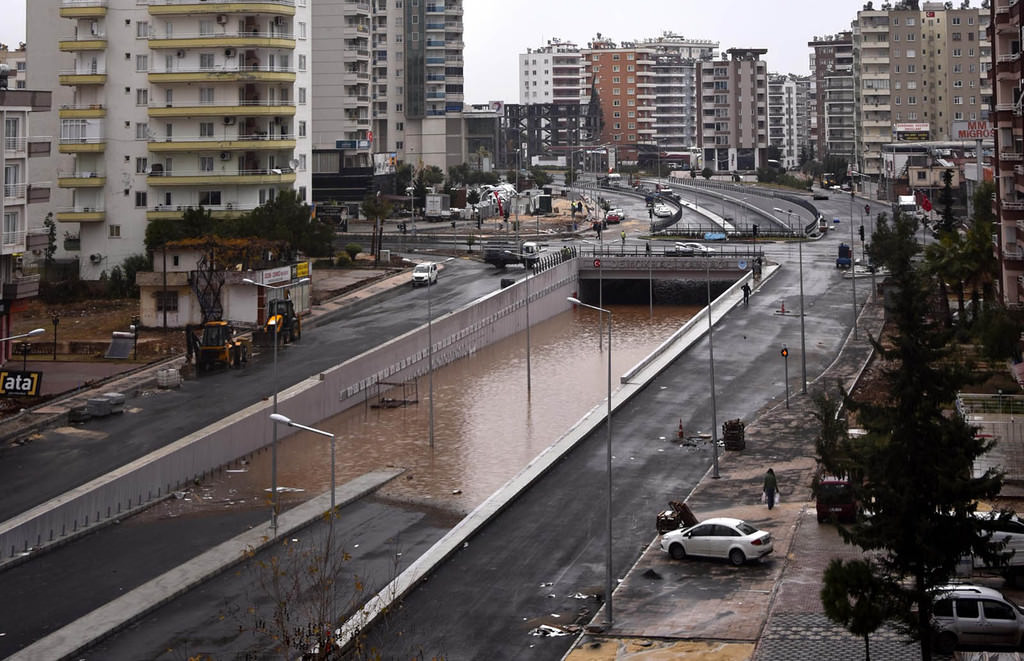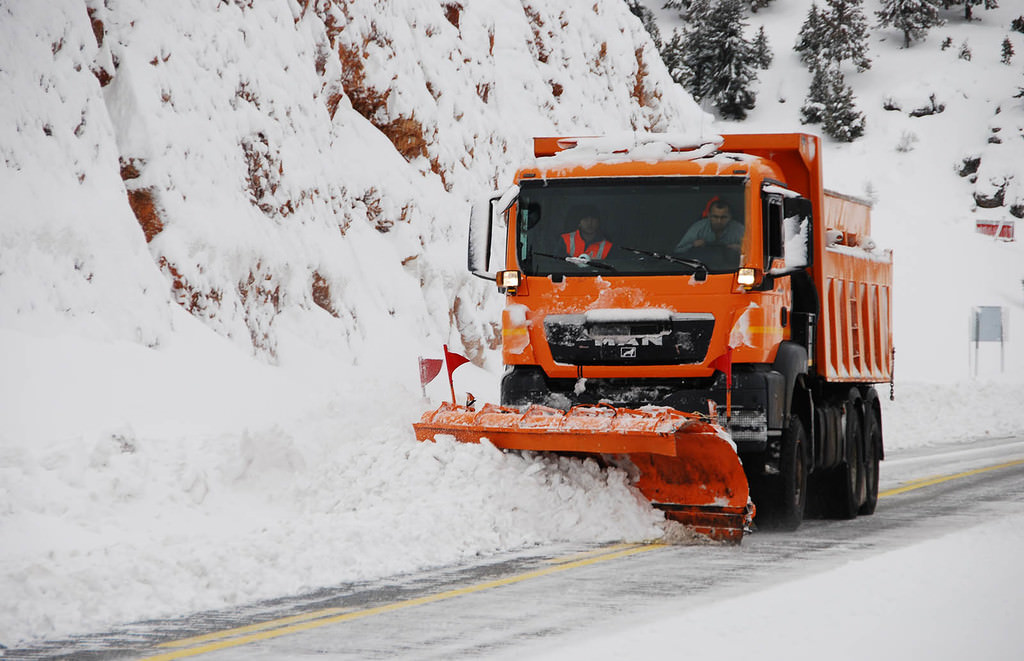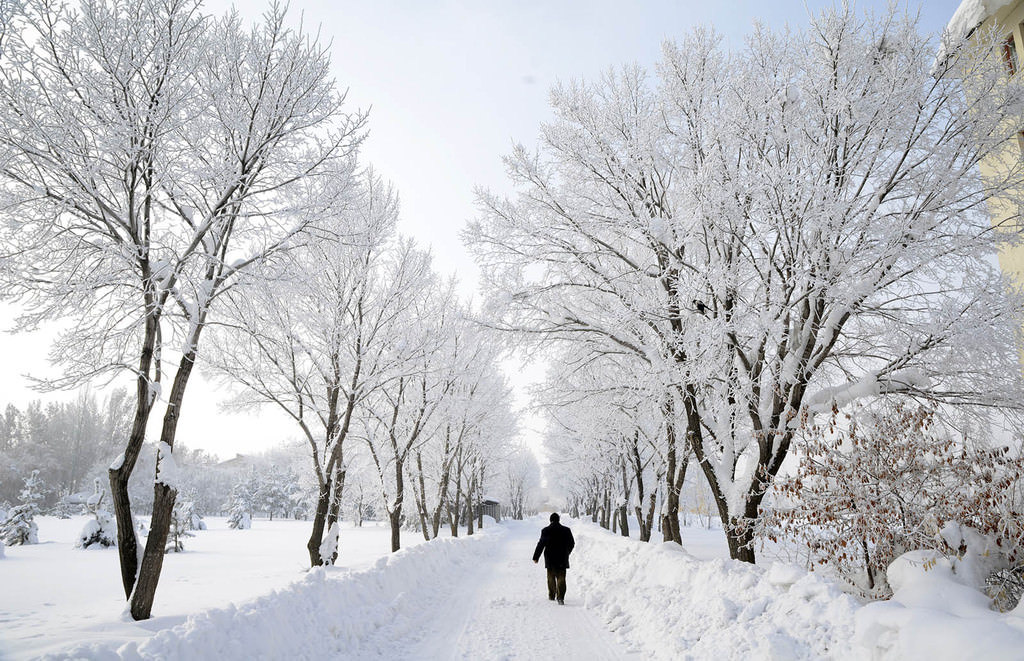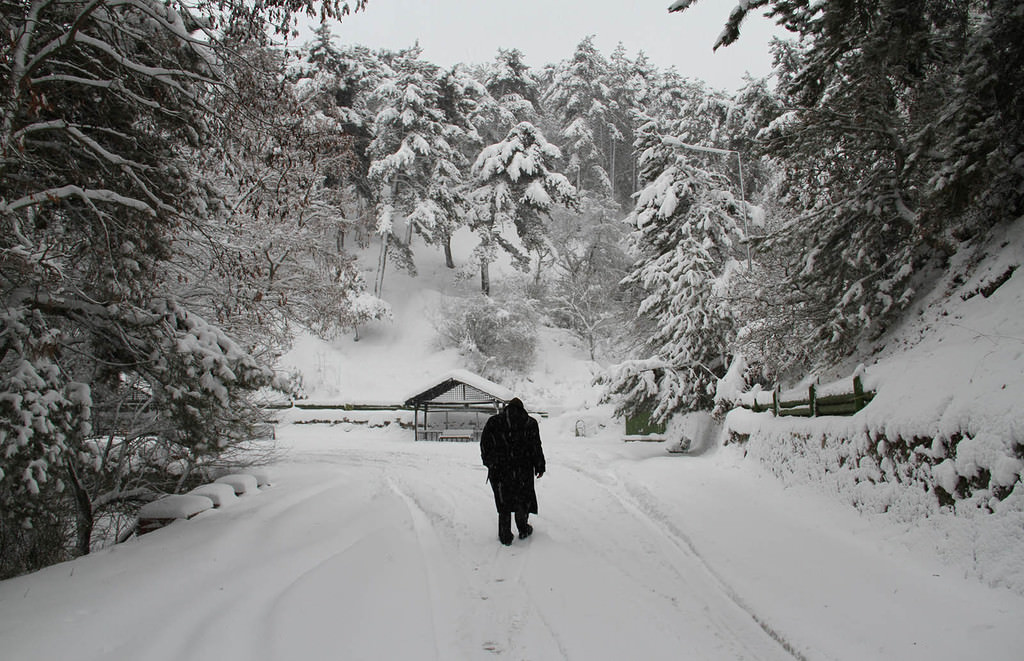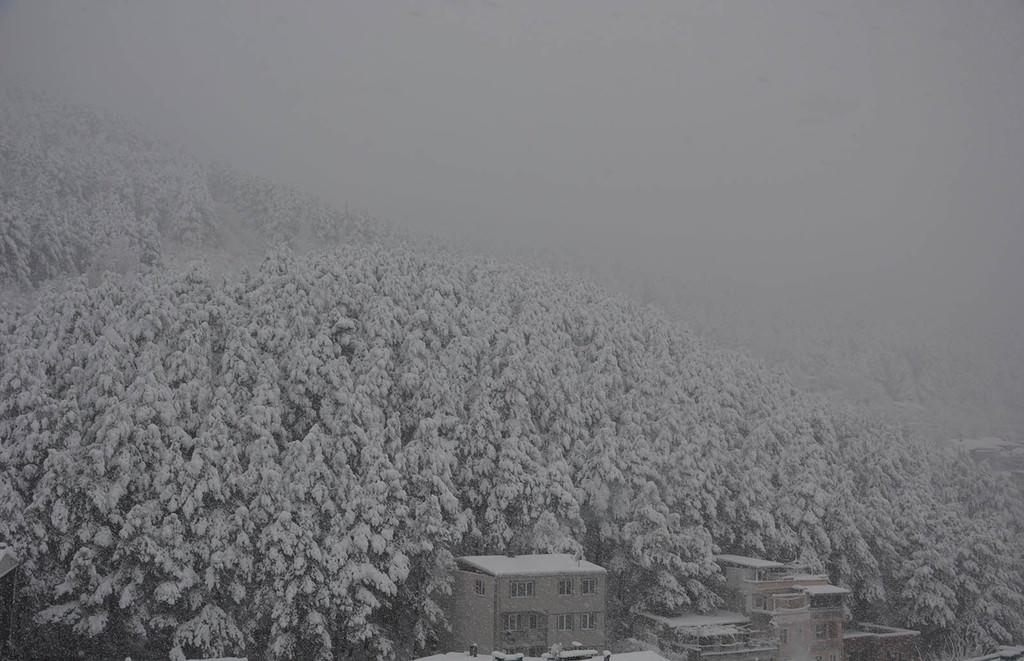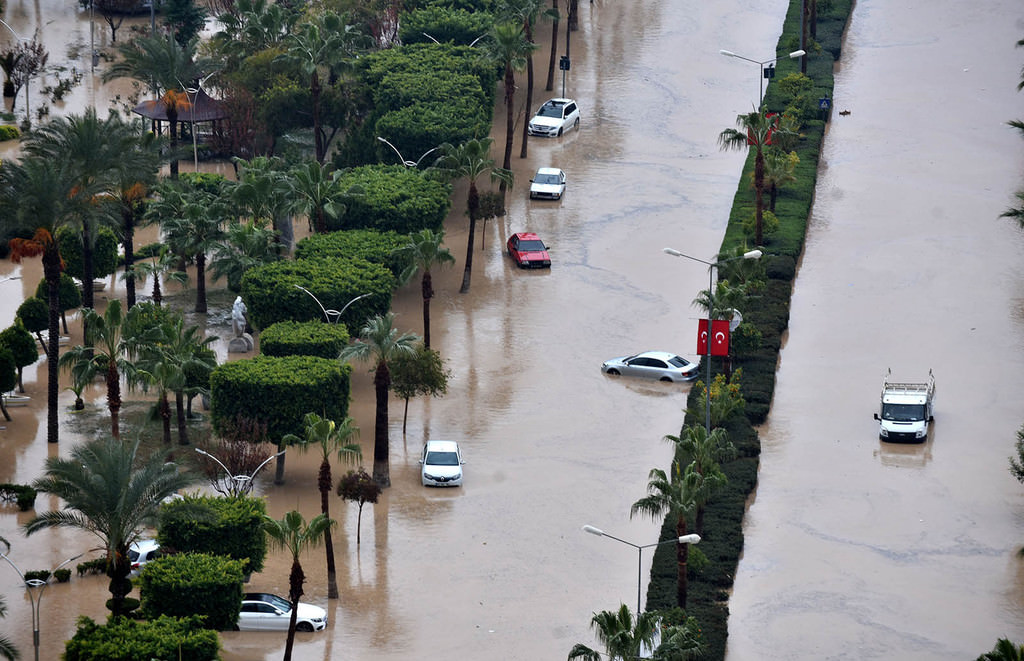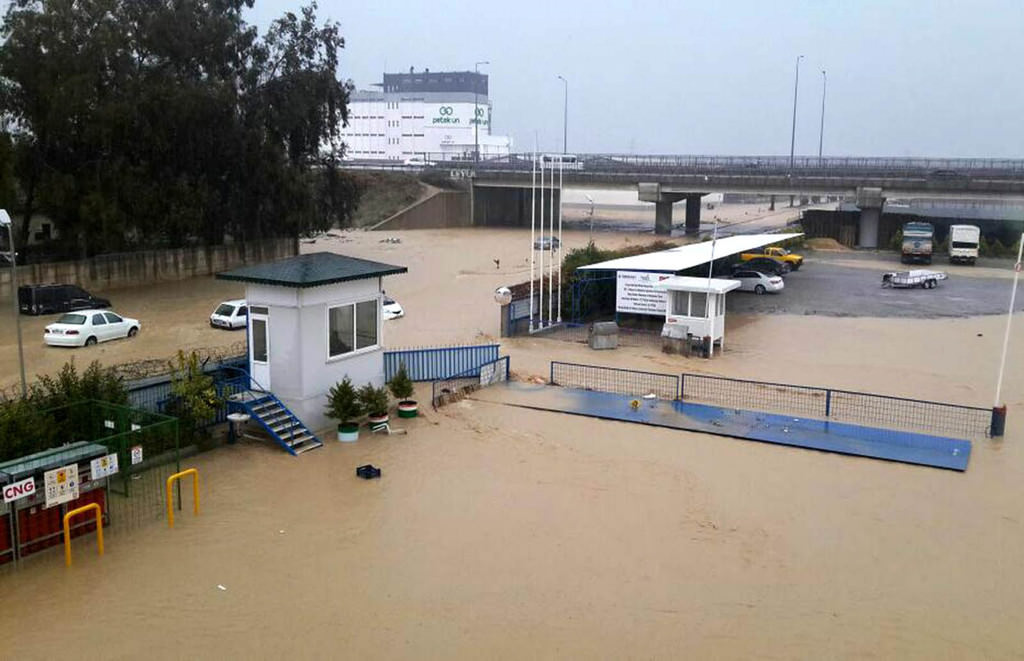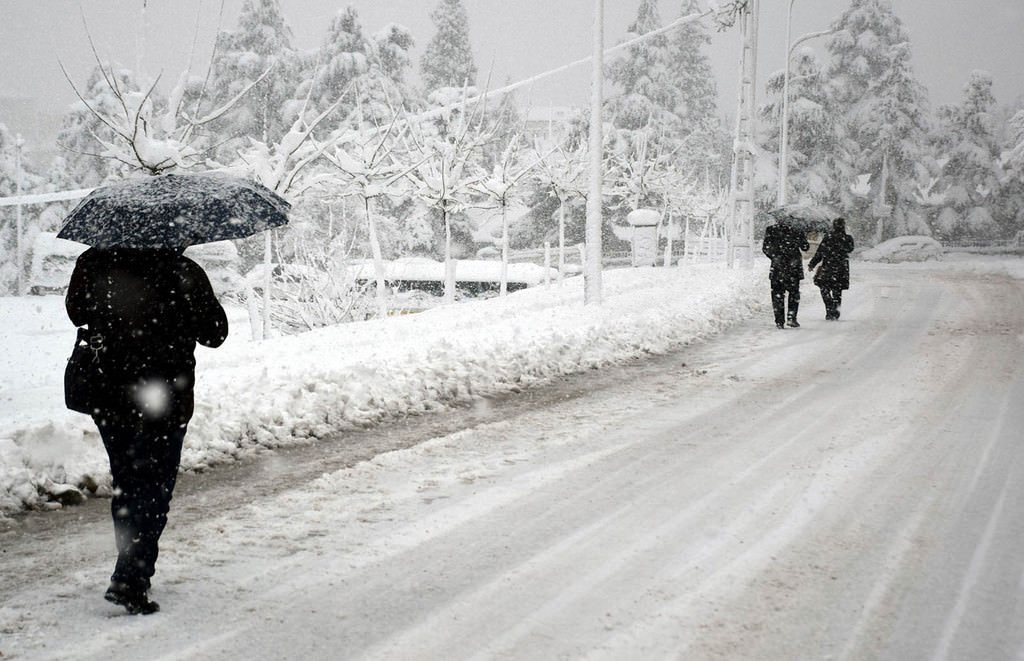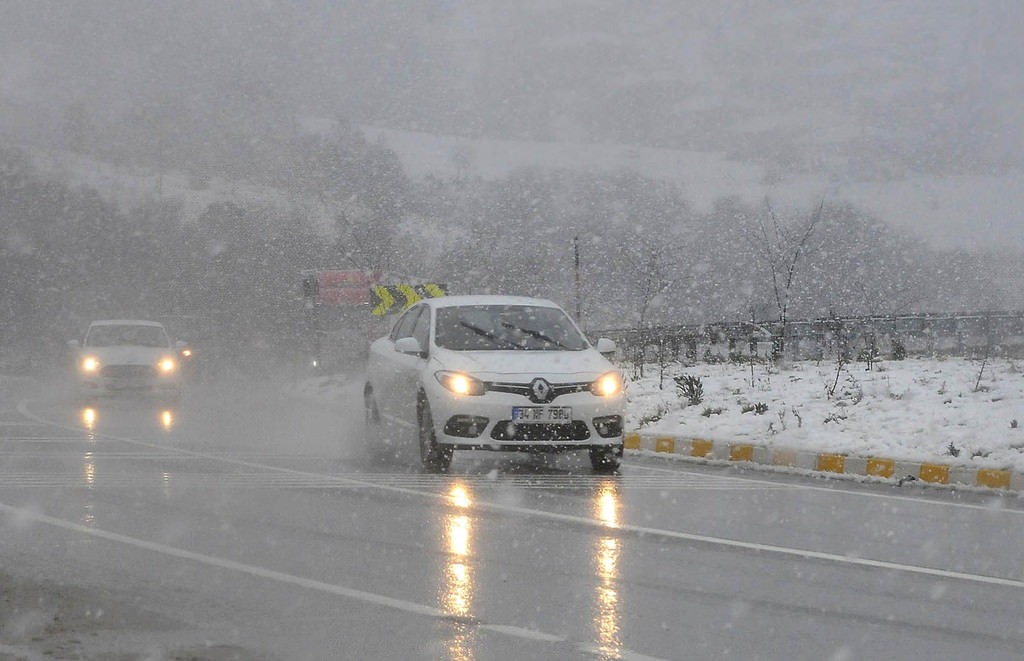 Elsewhere in Turkey, authorities announced schools were closed for one day on Thursday in the capital Ankara and in 20 other cities, while Karaman, a central city, announced schools were closed on Thursday and today due to heavy snowfall. The schools closed include those in western, central, northern and southern cities.
Governors in nine provinces including the capital Ankara, which saw heavy snowfall and windy rainfall announced administrative leave for pregnant and handicapped staff on Thursday.
Officials from Turkey's Highways Directorate told Anadolu Agency that the Ankara-Afyonkarahisar road was closed due to heavy snow. Intercity buses heading to Ankara were waiting in terminals, unable to go onto the road.
Mersin, a city on country's Mediterranean coast, was severely affected by unprecedented precipitation that started late Wednesday and continued for the most of Thursday.
The Metropolitan Municipality of Mersin has warned citizens to avoid going outside of their homes if not necessary, and teams work on repairing the shops, buildings and traffic lights which were highly damaged during the day.
An unidentified woman drowned in floodwaters that left a majority of the city inundated. Severity of the floods was highlighted by dramatic footage of a father and his daughter drifting away by floodwaters on a main street. The unidentified pair managed to escape to safety by holding onto the sidewalk.
Video shows father and daughter being swept by flood resulting from heavy rainfall in Turkey's southern Mersin cityhttps://t.co/TZ3i70g2gi pic.twitter.com/ymWzgkZzPA

— DAILY SABAH (@DailySabah) December 29, 2016

City authorities said the floods were unprecedented since 2001 and some 125 kilograms of rainwater per square meter hit the city, naming it "a natural disaster." Social media users shared photos of cars drifting in the floodwaters while the photo of passengers sitting inside a bus, indifferent to knee-deep water flooding the vehicle, made headlines.
Motorists were stranded on the streets while pedestrians took refuge by climbing atop vehicles. Crews rescued stranded pedestrians with the help of bulldozers. Unprecedented floods in the city were linked to settlements built on dried river beds.
In the northern city of Sinop, a passenger bus traveling to the city from Istanbul plunged over a cliff when it drifted off the road in icy conditions, in the early hours of Thursday. Four passengers between the ages of 17 and 61 died in the accident, while 27 others were injured.
Forty-eight others were injured in two bus accidents in the central cities of Kayseri and Kahramanmaraş on icy roads.
Although snowfall and closed roads are common in Turkey's eastern regions which have a harsh climate, the country's western parts were hit hard Thursday by snowfall.
In İzmir, normally a year-round warm city, snowfall led to the closure of a main road connecting it to the city of Manisa. Motorists were stranded for hours before crews cleared the snow covered road.
Similarly, a road connecting İzmir to Çanakkale, north of the city, was closed for four hours due to bad weather.
At -18 Celsius, temperatures in northeast Turkey's Ardahan province were the coldest in the nation, according to meteorology officials.