Orhan Aksu, a murder suspect who had been searched by the police, crashed the vehicle he had carjacked into a restaurant in the northwerstern Turkish city of Bursa on Saturday, injuring a total of 11 people, three of whom are in critical condition.
The police had previously searched 30 year old Aksu as the prime suspect in Gürbüz Kömür's murder Kömür's corpse was found following a gunshot to his heart in an abandoned area in the Demirtaş neighborhood of Bursa's Osmangazi district.
Aksu blocked and stopped the car driven by Yusuf Ay, a 45-year-old man who was returning home after attending a marriage ceremony, in Osmangazi's Alemdar district.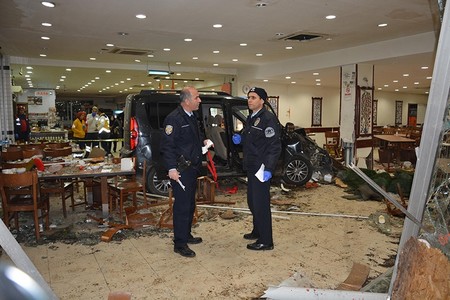 After seriously wounding Ay by shooting him in three different parts of his body, Aksu seized his car. Aksu then escaped with the usurped car, and began driving on Istanbul Avenue.
He lost the control of the car, which he was driving too fast, and crashed into a famous grilled meatball restaurant.
A total of nine customers were wounded in the restaurant, including two who remain in critical condition.
Felony suspect Aksu was also wounded inside the stolen car and was taken to the hospital; he is due to be detained after his medical treatment has been completed.