The country's top statesmen and politicians descended to the central city of Kayseri Monday to attend funeral prayers for Ahmet Hamdi Gül, the father of Turkey's 11th President Abdullah Gül.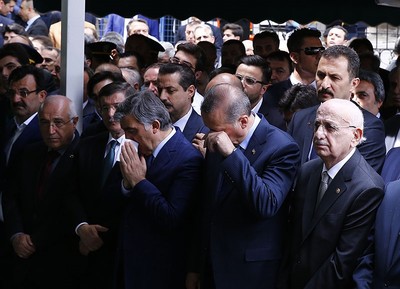 In a rare moment, Gül and his successor Recep Tayyip Erdoğan burst into tears as they stood shoulder to shoulder for funeral prayers.
The two men, who were the founders of the ruling Justice and Development (AK) Party before they had to part ways when Gül took the non-partisan presidential post, caught up with each other at the funeral.
Erdoğan, who lost his father in 1988, shouldered the coffin together with Gül as the funeral procession headed to the cemetery in the former president's hometown.
Along with Erdoğan, Prime Minister Binali Yıldırım, cabinet ministers and the leader of the main opposition Republican People's Party (CHP) Kemal Kılıçdaroğlu attended the funeral, along with a large crowd who bid farewell to the 91-year-old Gül in funeral prayers led by Mehmet Görmez, the head of the Presidency of Religious Affairs.
Ahmet Hamdi Gül was at a hospital in Kayseri where he was being treated for an illness related old age when he passed away on late Sunday.
A mechanic who worked at an airplane factory for decades; Gül senior turned to commerce after his retirement and partnered with Macit Gül, his other son, to open up a factory in his hometown.