Pro-PKK Özgür Gündem Daily, which was recently closed by Istanbul Public Prosecutor's Office over terrorist propaganda, launched a new paper called the Yeni Özgür Politika, praising Friday's car bomb attack on a police checkpoint in southeastern Cizre district near the Syrian border.
The headline of the pro-PKK paper read: "Those who burned people in basements are now buried in the wreckage!" and featured a picture of the police headquarter building which was almost completely destroyed in the terrorist attack.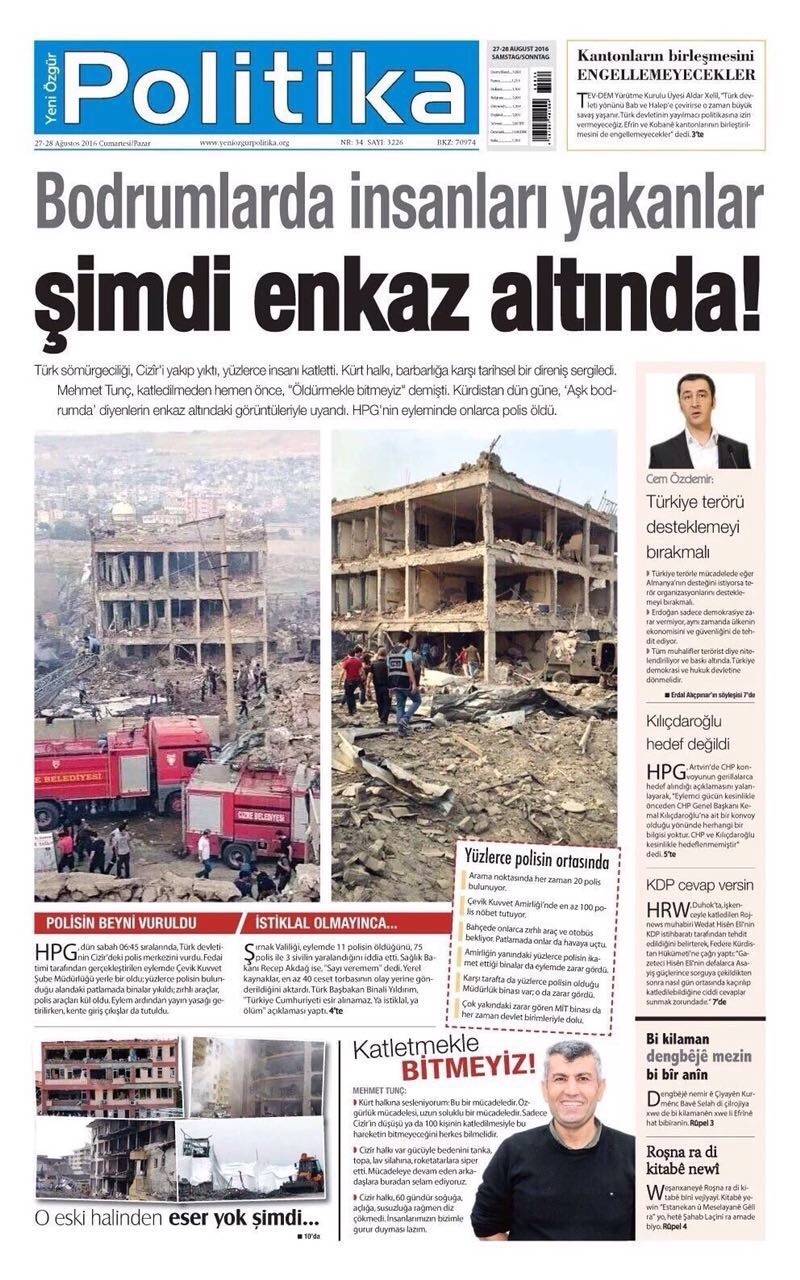 At least 11 police officers have been killed and at least 78 people injured by a car bomb attack carried out by PKK terrorists in Cizre district.

The paper also referred to Turkey as a colonialist entity and alluded to Mehmet Tunç, a PKK terrorist who was killed in Şırnak's Cizre district when he said "Killing us will not finish us."
Acting as a mouthpiece of the PKK, the paper also said the recent attack on main opposition Republican People's Party (CHP) Kemal Kılıçdaroğlu's convoy did not target the CHP delegation, in line with a PKK statement.
The people of Cizre have frequently criticized the terrorist organization for inflicting damage and destruction in the region, which poses a threat to civilians including children and the elderly.
The PKK, which is considered a terrorist organization by Turkey, the U.S. and the EU, resumed its 30-year armed campaign against the Turkish state last July. Since then, hundreds of members of Turkish security forces and thousands of PKK terrorists have been killed in operations in Turkey and Northern Iraq.
The situation in Cizre deteriorated before the PKK renewed its armed insurgency against the state in July 2015. Located on the border with Syria, the town's neighborhoods were divided between pro- and anti-PKK groups, controlled by militants with ties to extremist groups. The region has been terror-ridden since late 2014 when Daesh seized the northern Syrian, Kurdish town of Kobani, increasing tensions.
Since then, security forces have been trying to regain control of neighborhoods barricaded in Cizre amid intense armed clashes. As operations have ceased, reports accusing Turkish forces of extrajudicial killings and blockage of ambulances and firefighters from reaching the injured have emerged; fueled mainly by lawmakers from the pro-Kurdish Peoples' Democratic Party (HDP). Government officials and local authorities have denied these accusations, asserting that PKK terrorists target ambulances headed to take the wounded to hospitals.