With Mevlüt Mert Altıntaş identified as the assailant who killed the Russian envoy Andrei Karlov late Monday, all eyes have turned to the Gülenist Terror Group (FETÖ) as new evidence surfaces.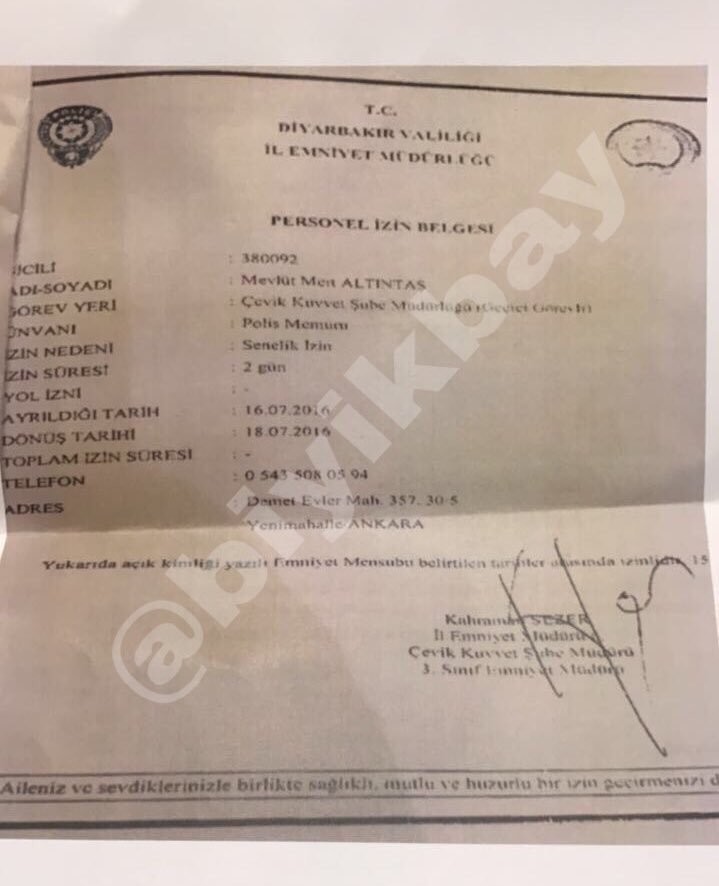 A document issued by the Diyarbakır Governorate shows that Altıntaş took two days of annual leave between July 16 and 18, right after the July 15 coup attempt, which was perpetrated by Gülenist militants embedded in the ranks of the Turkish military. Previous documents seized during raids show that the terrorist group had originally planned to carry out the coup on July 16; but after learning that Turkish intelligence had received a tip-off, Gülenist generals decided to carry out their plan to overthrow the government a day ahead of schedule.
The third grade police commissioner who signed this document, Kahraman Sezer, is now in jail for his links to FETÖ. After the July 15 coup attempt, he was expelled from the Turkish police force during initial investigations. He was later arrested on accounts of "being a member of a terrorist organization." Even though taking annual leave was banned at the time, the document is proof that Sezer gave permission to Altıntaş, going against government orders. Every member of the military, security and police forces, amongst others, had been immediately called to duty because of the extraordinary situation.
According to latest details in the investigation, Altıntaş arrived in Ankara from Diyarbakır on July 15 at 11:00 p.m., allegedly to await orders from FETÖ.
The fact that the assailant also studied in a Gülen-linked prep school in his hometown Söke, a district in the western Aydın province, also strengthens suspicions that he was involved with Gülen. Altıntaş was indicted by the Istanbul Public Prosecutor's Office in a 2012 exam fraud case. As a student at the Gülenist Körfez School, he was found to have acquired the answers to the university entrance exam questions and was admitted to the police college thanks to this Gülenist leak. Altıntaş's mother, however, denied reports that his son attended to Körfez Prep School.
Reports also suggested that Altıntaş's prep-school costs were paid by Şahin İlgi, a businessman from Söke who is now on the run due to his links to FETÖ. If the July 15 coup had succeeded, İlgi reportedly would have been appointed as the governor of Aydın province or the metropolitan municipality mayor. In addition, İlgi's father was detained over his FETÖ links four days before Karlov's murder, while their family business was appointed trustees due to their ties with FETÖ.
Besides Altıntaş's father, mother and sister, three other suspects in Karlov's assassination were detained Tuesday. Accordingly, one of the suspects was Atıntaş's uncle, Hasan Furuncu, who was the manager of the Kuşadası branch of FETÖ-linked American-Turkish Academy private schools, which were shut down in September.
Altıntaş was enrolled to Rüştü Ünsal Police College in Izmir in 2012 and graduated in 2014. The manager of the college during that period, Muzaffer Adem, was also discharged due to FETÖ links. The two high-rank police references Altıntaş used to apply to the college were also discharged from the police force over their involvement with FETÖ.
According to claims, in this period, Altıntaş also frequently visited Gülenists' "houses of light" -- the houses run and funded by Gülenists to provide food and accommodation for students and public servants in exchange for indoctrination and complete obedience to the shadowy movement. Three of Altıntaş's closest friends in college also had FETÖ links: one was arrested over his FETÖ ties and is currently in jail, one was discharged from his profession, whereas the other was detained as part of anti-FETÖ probes.
Police units also raided Altıntaş's home in the Keçiören district of Ankara, finding books on FETÖ and al-Qaeda terror groups.
Altıntaş's act could also be a "sacrifice" in the name of FETÖ. A video that previously surfaced after the suicides of 20 FETÖ suspects arrested in nationwide probes pointed to their distorted ideology, legitimizing suicides for the sake of the shadowy group.
Turkish police investigates possibility that murder of Russian envoy Karlov in Ankara was a FETÖ "sacrifice" attackhttps://t.co/x7eoLR7XS9 pic.twitter.com/ilEReUi1XZ

— DAILY SABAH (@DailySabah) December 20, 2016
Although FETÖ had not carried out violent attacks against public officials and civilians before the failed putsch on July 15, the group might have changed its tactics since the botched coup attempt.
*Contributed by İhsan Karataş, Kazım Yörükçe, Ceyhan Torlak from Sabah daily