The Justice Ministry has requested the extradition of 28 Gülenist Terror Group (FETÖ) suspects residing in 16 countries including FETÖ leader Fetullah Gülen and other senior figures, according to Turkish judicial sources.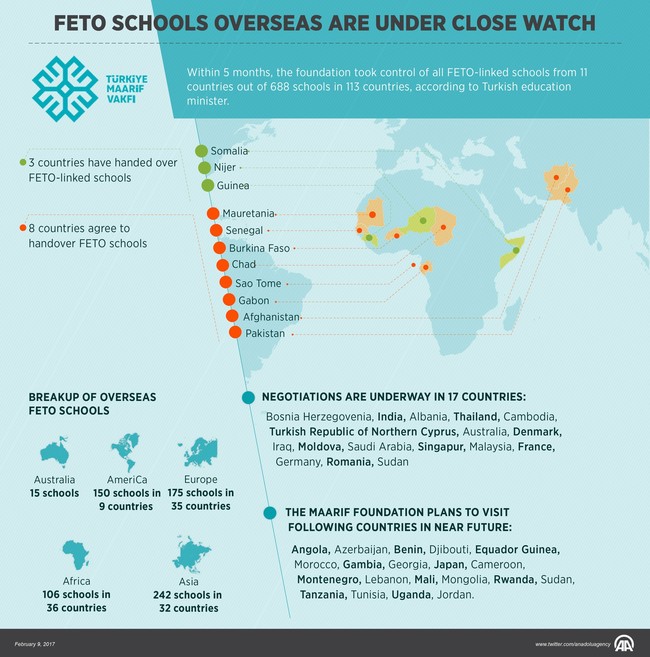 FETÖ's U.S.-based ringleader is the mastermind behind the failed July 15, 2016 coup attempt as stated by the government.
The defeated putsch left at least 248 people killed and nearly 2,200 injured.
Since July 19, 2016, Turkey has been officially asking the U.S. to extradite Gülen.
Turkey has also requested the extradition of Emre Uslu from the U.S., a FETÖ former police officer and columnist who is charged with espionage, being a member of an armed terrorist group and attempting to overthrow the Turkish government.
Although Turkey sent evidence months ago to support Gülen's and Uslu's extradition, Washington says it is still reviewing the documents.
Without sharing the names of the 28 FETÖ suspects, officials from the Justice Ministry's International Law and Foreign Affairs Department told Anadolu Agency (AA) they prepared and sent 31 extradition files in total to 16 countries for those individuals since last July.
Turkey wants the extradition of two suspects each from Mozambique, Kazakhstan and Romania.
Ankara is also seeking the return of suspects in Belgium, Bosnia-Herzegovina, Brazil, Bulgaria, Morocco, South Africa, the Netherlands, Kyrgyzstan, the Turkish Republic of Northern Cyprus and Poland.
Last September, Ankara asked German authorities to find, arrest and hand over two high-profile FETÖ suspects: Former prosecutors Zekeriya Öz and Celal Kara who fled Turkey in late 2013.
Öz and Kara played a key role in a controversial anti-corruption probe in late 2013 which targeted senior political figures in Turkey. Later, they were accused of fabricating evidence as part of a plot to overthrow the government.
The two men are thought to still be in Germany. Ankara has asked also Greece to extradite eight former Turkish soldiers who fled to Greece after the July 15 coup attempt.