Since an anti-Daesh operation, spearheaded by the Turkish military and the Free Syrian Army (FSA), liberated al-Bab from the terror group's control late February, the situation at the town has gradually returned to normal as stores and bazaars have begun to operate.

According to a report in leading the Turkish language daily, Sabah, the situation on the ground in al-Bab also showed that restoration and construction works continued at full speed, as the number of people returning home surpassed 50,000.

After Turkey and the FSA have cleared some of major Daesh strongholds, including Dabiq, Jarablus, and al-Bab, Turkey's Chief of General Staff Hulusi Akar had earlier said that Turkey would provide necessary assistance to Syrians returning to al-Bab, and help normalize life in the town.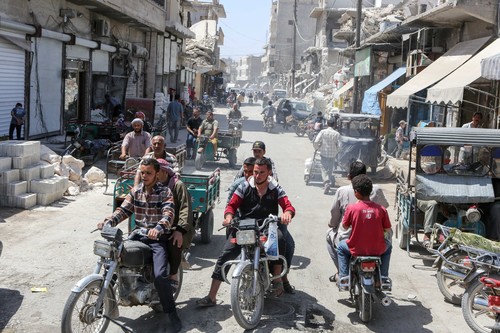 To that end, with Turkey's support, al-Bab is gradually returning to normal. Children here are getting their education at newly opened schools.

Speaking to Sabah, the locals said, they were trying to forget the 4-year long nightmare, with the help of Turkey. Along with schools, stores and bazaar also re-opened in the now Daesh-free town. More than 8,000 new residences will be built there with Turkish aid.

In addition, the region will also have a new 200-bed hospital, built with support from Turkey's Ministry of Health.

In the meantime, the Al-Hiqma Hospital, which was also repaired and restored by Turkish Ministry of Health, is now serving local citizens.

Saleh Qasem, an al-Bab local told Sabah that he was preparing to reopen his store.

"My store was completely destroyed. But, all restoration work, except some paint job is left. I will soon open my motorcycle store."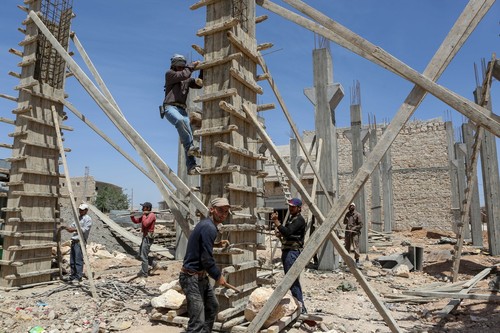 Meanwhile, the security of local citizens in the Daesh-free region is being maintained by the FSA's Special Forces, working alongside Free Syrian Police officers.

Ankara launched Operation Euphrates Shield on Aug. 24 to secure Turkey's southern border. The operation was completed in late March, and officials announced that more than 2,000 square kilometers (770 square miles) of land in northern Syria was liberated from Daesh, and more than 2,500 terrorists were killed.

The Turkey-backed FSA has not only gained ground by liberating the strategic towns of Jarablus and Dabiq — which it claimed would be the site of a doomsday war — and al-Bab, but also it also created a secure and stable area for the return of locals who fled to Turkey due to Daesh atrocities. Tens of thousands of Syrians fled to Turkey's southeastern provinces and were returned to the liberated areas after the operation was completed.

Since operations began, the Turkish government and many Turkish NGOs, including the Red Crescent, have been aiding refugees, not only those living in Turkey, but also in crisis-hit border areas inside Syria.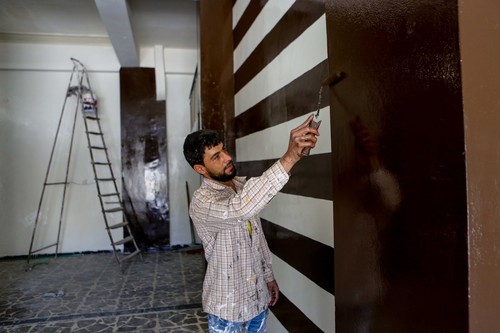 The Turkish Red Crescent's humanitarian aid has exceeded TL 2 billion (around $560 million) since the beginning of the Syrian civil war, according to the organization.

Turkey, hosting more Syrian refugees than any other country in the world, says it has spent around $25 billion helping and sheltering refugees during that time.

Syria has been locked in a vicious civil war since early 2011 when the Bashar Assad regime ruthlessly cracked down on pro-democracy protests, which erupted as part of the Arab Spring uprisings.

Since then, more than a quarter of a million people have been killed and more than 10 million have been displaced across the war-battered country, according to the United Nations.