President Recep Tayyip Erdoğan, speaking to journalists Sunday on the sidelines of the summit in Beijing on China's new Silk Road plan, dismissed claims that Turkey had been slow to respond to terrorist group Daesh, declaring that Turkey had been among the first that pointed to the threat posed by the group and had taken immediate action. Turkey had become aware of the Daesh danger very early, even before the previous U.S. administration took the issue seriously and had taken prompt security measures.

One journalist said that western think tanks were legitimizing the Obama administration's support for the terrorist group PKK's Syrian affiliate YPG by claiming that Turkey had rebuffed initial U.S. appeals, forcing Obama to pivot toward a terrorist group and asked whether Turkey had really been slow to respond to Daesh. Erdoğan forcefully denied any such claim, arguing: "This is a lie from top to bottom. Such an assertion is nonsense; it is simply a lie. It is slanderous. Firstly, it was Turkey that took the Daesh threat seriously before the U.S. and responded appropriately." The president said if that had not been the case, Daesh would not be in the trouble it is in right now. "Who has significant presence in Iraq? Who leads the coalition? What did they [the U.S.] do when Daesh took over Mosul or Anbar? Nothing."
However, when Daesh tried to attack Turkey's base in Bashiqa near Mosul, Turkish forces pushed them back, he said. "However, despite all the opposition to our base there, we said we would keep it in place. That is the base where peshmarga forces that fought Daesh were trained. It was there that Nineveh Guards were trained. All these forces were trained to fight Daesh."

He said any claim that tried to indicate that Turkey did not fight against Daesh was a betrayal of the first order. "Such claims are smears spread by the Obama administration. Unfortunately, he left Syria, Iraq in this state in the lap of Trump."

Lower Obama bureaucrats continue to hold key posts in the U.S. government in the fight against Daesh, and these remnants continue to influence the Trump administration.

"And I argue that there is no need for the YPG. It is a terrorist group. Cooperating with the YPG is tantamount to harming the credibility of the U.S. and the coalition it leads."

The PKK, which has affiliates in Syria and Iran, is responsible for the deaths of more than 40,000 people over the past 40 years and is recognized as a terrorist group by the U.S. and EU. However, the Obama administration argued that the PKK and YPG were separate groups, despite sharing the same ideology, leadership, militants and weapons.

The U.S. claims the Syrian Democratic Forces (SDF), a majority of which is exclusively from the Kurdish YPG, is a multi-ethnic group and has no links to terrorist groups. However, the inclusion of a few Arabs and other locals in the SDF cannot cloud the fact that YPG militants form an overwhelming majority of its cadres, Turkey argues.

The Trump administration's decision this week to begin supporting the YPG with heavy weapons was criticized by Turkey, with officials accusing the remnants of the Obama administration playing a significant part in deceiving the current U.S. administration.

The fight against Daesh could perfectly be carried out by the U.S. and Turkey with support from NATO allies and regional partners, especially Saudi Arabia, Qatar, Lebanon and Jordan, argued Erdoğan. "We don't need a terrorist group."

Turkey proved that this was a fact by freeing Jarablus, al-Bab, al-Rai and Dabiq, Erdoğan said. "We now say that we can prove it in Manjij and Raqqa as well."

Last year's Operation Euphrates Shield launched by the Turkish Armed Forces supported by the Free Syrian Army (FSA) succeeded in freeing a large region in the north of Syria from Daesh occupation.

"Unfortunately, our previous proposals failed to attract Obama."

He cited U.S. President Donald Trump's remarks on declaring no-fly zones in Syria and expanding the train and equip program to secure terror-free areas in which civilians can shelter as encouraging developments, noting that he himself had made such proposals since the beginning.

Erdoğan said Turkey continued to train internationally recognized opposition group the FSA and would like to expand the program.

"There is no need for the SDF. We have been saying this since the beginning. Unfortunately, they failed to heed our proposals."

Erdoğan said that certain people and groups, who were ignorant of the facts on the ground, supported by ploys from western media organs, had created the impression that Turkey failed to do what was needed against Daesh.

"Turkey has been at the forefront of efforts to fight Daesh. Why do they think that I am identified as a target by Daesh? Daesh media organs continually print my photos."

Erdoğan also said that the many hundreds of civilians and members of security forces had died at the hands of Daesh, describing the casualties as the proof that Turkey was fighting an effective war against the terrorist group.

"I have repeatedly declared how Daesh had nothing in common with Islam. They are a black stain for Islam. A shadow. I have said it before. I say it today and will do so tomorrow. Islam allows no such group."

He said neither Qatar nor Saudi Arabia was afraid to fight Daesh and their officials had repeatedly voiced their desire to do so.

MEETING WITH TRUMP

Erdoğan, after concluding his visit to Beijing late yesterday, was expected to fly to Washington D.C. to meet with Trump tomorrow.

When asked about his previous remarks that the meeting with Trump will be decisive in determining the future of Turkey-U.S. ties, Erdoğan said preliminary talks held by Presidential spokesman İbrahim Kalın, National Intelligence Organization (MİT) Chairman Hakan Fidan, Justice Minister Bekir Bozdağ and Chief of General Staff Gen. Hulusi Akar last week had been with American officials but not with Trump. "They did not meet with Trump, apart from a passing encounter."

He said Bozdağ had presented U.S. Attorney General Jeff Sessions with further proof that the fugitive imam Fetullah Gülen was directly implicated in last year's failed coup attempt. Other Turkish officials had met with relevant American officials to solely discuss developments in Syria.

Erdoğan reiterated that his meeting with Trump tomorrow would be decisive for the future of bilateral ties. "If we are strategic allies, both sides should act the part. If the alliance is to weaken, we need to take steps to take care of ourselves. We cannot allow this alliance to harm Turkey's interest. I need to emphasize this fact."

SYRIAN REFUGEES

Turkey continues to host around 3 million Syrians, he said, adding: "We are taking care of all their needs, from health to education. How long are we expected to continue this? The same thing happened to Jordan and Lebanon when Palestinians sought shelter. They received help, but what will happen tomorrow. We were able to spend $25 billion but we still need to think about the future."

Erdoğan said Turkey had to implement longterm measures to address the needs of the refugees. "We are discussing presenting a citizenship route for them. However, the main opposition [Republican people's Party (CHP)] objects, claiming that there are hungry Turkish citizens. We believe we need to utilize the human resources of these refugees. Some are doctors and architects. Let's allow him to do what he is trained to do. You cannot expect such professionals to work illegally. One needs to grant citizenship to such people so they can work legally."

It is the moral and religious duty of Turkey to treat the refugees with respect, he said.
Silk Road summit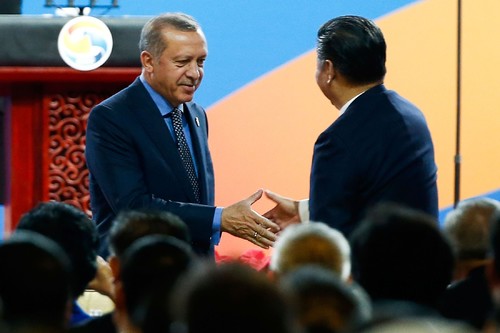 President Erdoğan shakes hands with his Chinese counterpart Xi Jinping (R) during the opening ceremony of the Belt and Road Forum in Beijing on May 14.
He also told reporters about developments at the Beijing Silk Road summit where he along with Chinese and Russian president, made opening speeches.

"The heads of state and government of 28 countries and 200 ministers are present here for China's One Road, One Belt initiative, which is described as a modern-day Silk Road. It aims to link Asia to Europe via Anatolia."

Turkey is making rapid progress in becoming a key part of this air, land and sea corridor across Eurasia, he said. "We are hopeful that our infrastructure investments will further the initiative."

Erdoğan described Chinese President Xi Jinping's opening speech as inclusive and praised its content. "It was a very detailed and clear speech that did not drown one in minutia. I even asked him to give me a copy of it."

"I believe such projects will greatly contribute to regional and global peace and prosperity. Turkey and China are opening a new page in economic ties. We signed three separate agreements; however, real progress will be made through cooperation agreements to build infrastructure projects."
One principle deals includes the Kars-Edirne speed train project to traverse the entire country, he said.

"The Chinese want to build the 350-km-per-hour fast train between Istanbul and Ankara. Discussions between the two transportation ministries are continuing. Our aim is to complete 13 projects." He also said that negotiations to build Turkey's third nuclear plant were proceeding according to plan.
He said Turkey's efforts to introduce the Turkish lira into bilateral trade between countries to replace the dollar was proceeding with Russia, Iran and China where the Economy Ministry and the central bank were taking the lead in discussions. "Our most serious negotiations in this regard are with Russia and China."

He noted that the summit allowed him to meet with Xi for the fourth time in a year. "Our efforts aim to increase the number of Chinese tourists visiting Turkey."

Erdoğan had private meetings with Uzbekistan President Shavkat Mirzyaev, Greek Prime Minister Alexis Tsipras, U.N. Secretary General Antonio Guterres, Hungarian Prime Minister Victor Orban, Polish Prime Minister Beata Szydło and Serbian Prime Minister Aleksandar Vucic, who will assume the presidency on May 31.

When asked about his meeting with Tsipras, Erdoğan could not hide his disappointment, criticizing Athens for failing to extradite several officers who took part in the deadly July 15 coup before escaping to Greece. "Their sole defense is the judiciary. That's their answer. They first said these suspects would be extradited within 15 to 20 days. It just didn't happen."