Police detained at least five PKK suspects, including a senior member, in anti-terror operations in Istanbul Wednesday.
According to reports, counter-terror squads from Istanbul police initially detained a couple identified as N.K. and H.H., who were Syrian nationals, reports said. The operation was launched based on the instructions of the Istanbul Prosecutor's Office, reports added.
Police discovered photos showing H.H. participating in pro-PKK rallies demanding the release of terrorist leader Abdullah Öcalan in various European countries upon checking the suspect's cellphone.
Moreover, they found out that H.H. organized such rallies and provided financial support.
N.K.'s phone had photos taken with various terrorist groups in Syria, while police also found a photo of the suspect taken beside terrorist leader Öcalan. Both suspects were arrested, reports said.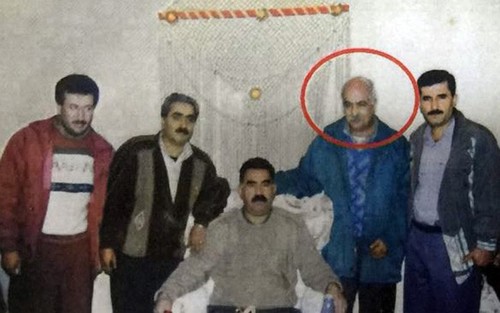 PKK terrorist N.K. pictured beside the terrorist group's leader Abdullah Öcalan (Center) in this photo provided by Istanbul police on Nov. 1, 2017 (IHA Photo)
A suspect identified as F.B., who is a senior PKK figure, was also detained in the operations. F.B. was reportedly on the police's "gray list" which is a list of suspects wanted for terror charges.
Founded in 1978, the PKK has waged a decades long bloody campaign against Turkey.
The PKK, which is listed as a terrorist organization by Turkey, the U.S. and the EU, resumed its armed campaign in July 2015 after a brief reconciliation period.
Since that time, the PKK has been responsible for the deaths of some 1,200 security personnel and civilians, including women and children, while more than 4,000 security personnel and over 2,000 civilians have been injured.