Unknown gunmen killed 17 people following a new year's day church service in southern Nigeria, a local official said, the latest violence to hit the oil-rich region.
Local government official Osi Olisa said Tuesday that the attackers opened fire on the church attendees in the town of Omoku on Monday morning.
"It was a random attack, they shot anyone they saw on the road, before escaping," Olisa said.
No group has claimed responsibility for the attack yet, but suspicion falls on an armed group believed to be behind kidnappings and killings in the area.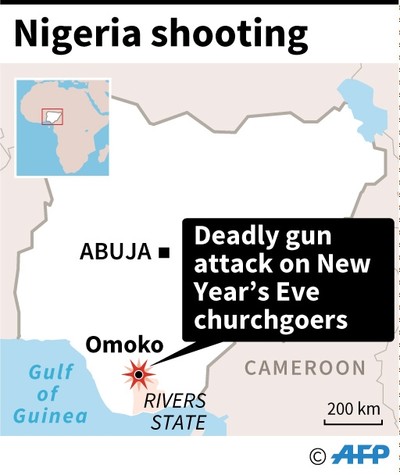 Omoku is located about 90 kilometers (56 miles) from the southern oil hub of Port Harcourt.
The region, blighted by poverty despite a wealth of oil, is home to several powerful gangs that often engage in violent turf wars and make money demanding ransom in kidnapping incidents.
Such gangs, known as "cults" in Nigeria, began as university confraternities decades ago before evolving into powerful armed groups that now rule the streets of the destitute region.
The Boko Haram extremist group has been terrorizing north-eastern Nigeria and its neighbor's border regions for years with at least 20,000 people dying in their attacks and millions displaced.
The group, however, hasn't yet claimed any attacks in the largely Christian south of the country.