Flash flooding in Tunisia has killed at least five people while a further two are unaccounted for, the interior ministry said on Thursday.
Two died in the northwestern region of Kef and another in Grombalia in the north, ministry spokesperson Sofiene Zaag told AFP.
On Wednesday a six-year-old child drowned in Sidi Bouzid in central Tunisia and a 40-year-old man was swept away by a seasonal river in the neighboring province of Kasserine, the ministry said.
One person has been missing since Wednesday in Kasserine and another in Zaghouan in northeastern Tunisia, Zaag added.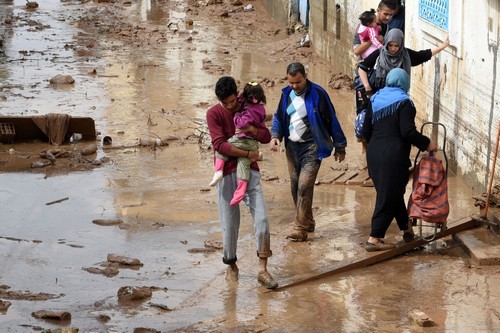 The drownings come less than a month after torrential rains killed at least five people in the northeastern region of Cap Bon.
Water levels rose Thursday in several cities, including Tunis and its outskirts, where most schools were closed.
Some commuters parked their cars and took off their shoes as they navigated flooded streets to reach workplaces in the capital.
In some areas, floodwaters rose to nearly two meters deep during the night, devastating homes and shops.
In Mhamdia, a township 15 kilometers (nine miles) south of Tunis, families spent Wednesday night on the roofs of their homes to escape the floods.
"I slept with my three children on a floor under construction above my own home, exposed to the wind and the rain," one resident said. "I've lost everything".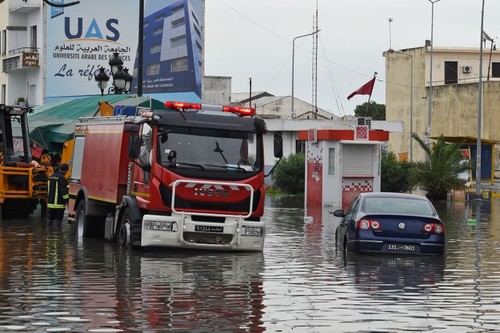 In knee-deep mud, some residents tried to leave their homes in the crowded township with a few sodden possessions, an AFP photographer said.
People have lashed out at authorities for failing to maintain drainage systems or clear rubbish from seasonal riverbeds, despite frequent heavy rains in the autumn.
"This is the third time that this disaster has happened", said Abdelaziz Elkahbi, another Mhamdia resident.
"The authorities promise to do something, but nothing ever happens".
Schools remained closed in several areas including Kasserine and Sidi Bouzid, the cradle of Tunisia's revolution sparked by the December 2010 self-immolation of a fruit seller in protest at police harassment.
The interior ministry urged drivers to take care, as numerous roads across the country are impassable.