On the U.S. electoral map, North Carolina symbolizes one of the most important states as Democratic candidate Hillary Clinton and her rival, Republican Donald Trump, go toe-to-toe as rapid swings in voters' views could decide the election. Trump and Clinton squared off Thursday in do-or-die North Carolina with dueling rallies. The two rivals have visited North Carolina nearly two dozen times since June.
Clinton unleashed top surrogates, including President Barack Obama, to bolster her case in a final push, while billionaire Trump deployed wife Melania to soften his brash image.
The two candidates are now tied in Florida and North Carolina, and Clinton's lead in Michigan has narrowed so much that the state is too close to call. Ohio remains a dead heat, and Pennsylvania is now tilting to Clinton.
While Clinton remains the odds-on favorite to win Tuesday's election, Trump now has a plausible route to victory, especially if there is a sharp fall in turnout among African-Americans from the levels of the 2012 election. Trump must win both Florida and North Carolina to have a good chance of winning the White House. Clinton could lose both states and still win.
In the Reuters/Ipsos daily tracking poll from Oct. 28 to Nov. 1, Clinton led Trump by 6 percentage points among likely voters, the same margin as before the FBI announcement.
There are some reasons for the Clinton campaign to worry. Among voters who have cast early ballots, she leads Trump by about 8 points. At the same point in the 2012 race, President Barack Obama had a lead of 11 points among early voters over Republican rival Mitt Romney. Obama's gap narrowed, however, to 6 points just before Election Day, according to the States of the Nation project and separate Reuters/Ipsos polling.
In Florida, where the candidates are tied at 47 percent, Clinton leads by 8 points among early voters. In 2012, Obama led by about 15 points.
It is not clear why Clinton's early voting support has fallen short of Obama's. The shift could indicate a broader cross-section of voters is casting early ballots than in 2012. But the drop might also foreshadow lower-than-expected turnout among the core Democratic constituencies who propelled Obama to victory in 2008 and 2012.
Clinton's success is built on holding together those blocs of voters. She does not, for example, enjoy the same support among African-Americans as Obama, the first black U.S. president. Diminished support among blacks, coupled with a large drop in black turnout, would hurt the Democrat.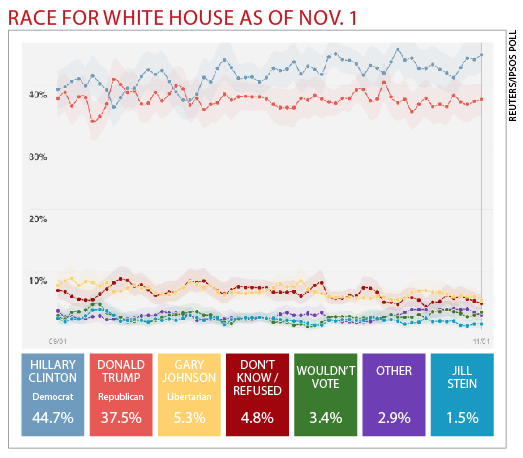 If black Democratic turnout drops by 15 points nationally, for example, Clinton's odds of winning drop to about 72 percent, by a projected margin of just 32 Electoral College votes. A drop of 20 points would reduce the odds of a Clinton victory to little more than a coin toss, according to the project.
Even a 10-point drop in black Democratic turnout coupled with a 5-point increase among white Republicans would flip the race to Trump, the project found.
The good news for Clinton is that about 60 percent of likely Hispanic voters are supporting her, similar to the numbers Obama enjoyed in 2012. A 10-point increase in Hispanic turnout would go a long way toward offsetting a 10-point decrease in black turnout, according to the project.
The outlook is not all gloom for Clinton. She has made the race close in Arizona, a longtime Republican stronghold. She has also regained the lead in Pennsylvania and is leading in Nevada. In Ohio, where the race also is tied, she leads by about 20 points among early voters. At this point in 2012, Obama led by about 30 points.
A nationwide CBS/New York Times survey showed Clinton's lead shrinking to three points to 45 percent against Trump's 42 percent, a sign the bombastic mogul is winning over once-wary Republican voters.
Clinton's last stand will come in Philadelphia on the eve of the election for a joint rally binding America's two most powerful political dynasties. She will be joined by husband Bill Clinton, President Obama and 2016's most potent campaigner, First Lady Michelle Obama.
Pennsylvania is clearly a firewall for Clinton; a Trump win there would be a giant step toward his becoming the 45th president. But a rally in Philadelphia - the City of Brotherly Love - sends an unmistakable message: Trump is a threat to the republic. It was here that the U.S. Constitution came into being in 1787.
U.S. warns about possible al Qaida attacks in Virginia, Texas, NY
U.S. intelligence officials have warned local authorities in New York, Texas and Virginia about possible attacks by al Qaeda on Monday, a day before the U.S. presidential election, CBS News reported on Friday, citing unnamed sources.
No specific locations were mentioned, but U.S. intelligence officials alerted joint terrorism task forces about the possible threat, CBS reported.
The FBI did not comment specifically on the report. "The counterterrorism and homeland security communities remain vigilant and well-postured to defend against attacks here in the United States," it said in a statement on Friday.
The bureau was working closely with federal, state and local law enforcement to identify and disrupt any potential threats, it said.
Reuters could not immediately verify the report, and officials at the U.S. Department of Homeland Security did not immediately respond to a request for comment.
The potential for violent clashes is darkening an already rancorous presidential race between Democrat Hillary Clinton and Republican Donald Trump, on top of the threat of computer hacking and fears that Russia or other state actors could spread political misinformation online or tamper with voting. While federal and state authorities are beefing up cyber defenses against potential electronic attacks on voting systems ahead of Election Day, others are taking additional steps to guard against possible civil unrest or violence.
Local authorities in Ohio, Pennsylvania, Arizona, Wisconsin and Florida told Reuters they were not boosting election-related law enforcement personnel or resources above 2012 levels.