Hundreds of people came out in the rain to protest a prosecutor's decision not to charge a Charlotte police officer in the shooting of a black man in North Carolina's largest city.
Media outlets reported that the protesters gathered Wednesday evening outside Charlotte police headquarters.
43-year-old Keith Lamont Scott was killed on September 20 by a police officer shooting, sparking the Charlotte unrests. Protestors say he was holding a book, and not a gun, when he was killed, contrary to the police officer's claims.
Protestors say they don't believe Charlotte-Mecklenburg District Attorney Andrew Murray's report that Keith Scott had a gun in his hands when he was shot.
They also think that Murray and investigators are covering up the case for a white officer.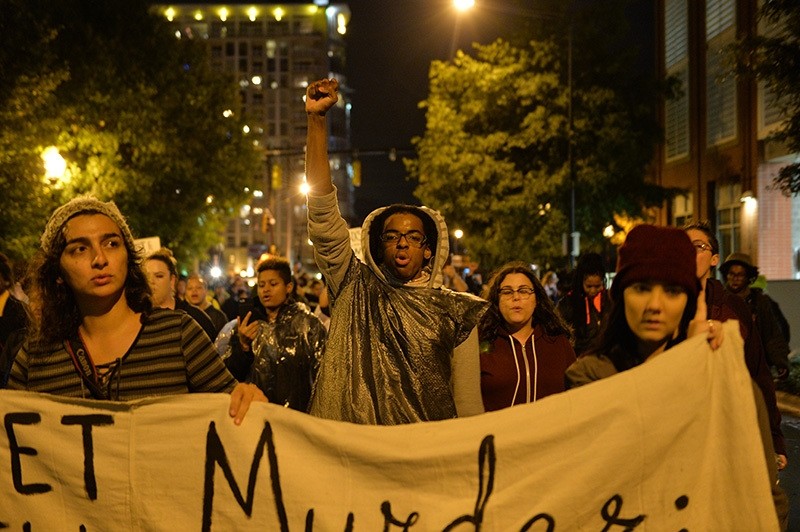 (AA Photo)
Lawyers for the family of a black man fatally shot by a Charlotte police officer say they still have questions as they consider whether to file a lawsuit.
Charles Monnett represents the family of Keith Lamont Scott, who was fatally shot by police officer on Sept. 20 by a Charlotte officer.
The family's lawyers also asked that if people protest, they do it lawfully and peacefully.
Charlotte is the latest U.S. city to be shaken by protests and recriminations over the death of a black man at the hands of police, a list that includes Baltimore, Milwaukee, Chicago, New York and Ferguson, Missouri.