McDonald's corporate Twitter account posted an insulting tweet about U.S. President Donald Trump on Thursday and deleted it after 20 minutes as the company said the account was compromised.
"You are actually a disgusting excuse of a President and we would love to have @BarackObama back," read the tweet which was temporarily pinned to the top of McDonald's account so that it would be the first message people see if they visited the company's profile. "Also you have tiny hands," it added.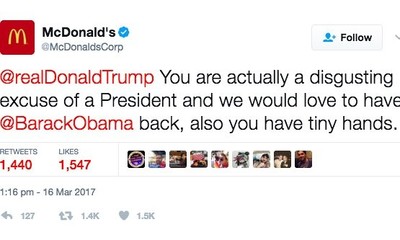 The company's answer came one and a half an hour after the incident. Officials said Twitter had been notified that the account had been "compromised".
"We deleted the tweet, secured our account and are now investigating this," McDonald's said.
A company representative said they are investigating the matter, while some social media users supporting Trump have started a new hashtag #BoycottMcDonalds.