The depiction of the White House covered in iconic Russian onion domes of St. Basil's Cathedral on Time magazine's upcoming issue seems to have confused the CNN, which wrongly referred to the onion domes as "Russian minarets."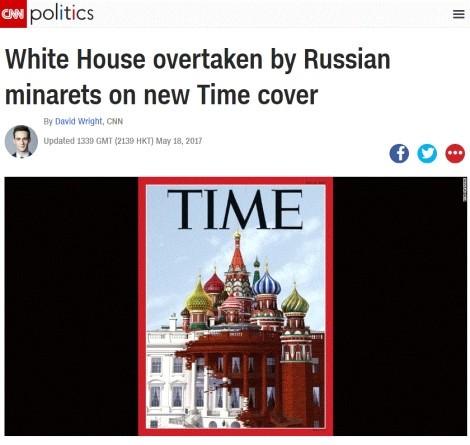 Social media users immediately reacted to the editorial entitled "White House overtaken by Russian minarets on new Time cover" published on Thursday, mocking the CNN for the mistake.
@rprose @DavidWright_CNN you might google your architectural term BEFORE you use it. Those are Onion Domes NOT Minarets.

— Brenda Barnes (@BrendaKBarnes) May 18, 2017
The new issue of Time magazine features a picture of the White House covered in two iconic Russian landmarks, including the Kremlin Walls and the St. Basil's Cathedral, in efforts to criticize Trump's alleged ties with Russia.
CNN quickly fixed the headline and issued a clarification saying: "This story has been updated to more accurately describe Russian architecture."
U.S. President Donald Trump has slammed media outlets for carrying out "the single greatest witch hunt of a politician in American history" while he denies any links to Moscow.